Alan Salzman of VantagePoint Venture Partners to Open the Sixth Edition of Cleantech Venture Forum in San Francisco, May 22-24; Event to be the Largest-Ever Gathering of Cleantech Entrepreneurs and Investors
Howell, MI - February 25, 2005 - Cleantech Venture Network LLC, an organization that connects venture, corporate and institutional investors with "clean technology" entrepreneurs, announced today that Alan Salzman, co-founder and Managing Partner of VantagePoint Venture Partners, one of the first major funds with a dedicated cleantech practice group, will deliver the opening keynote remarks at Cleantech Venture Forum VI at the San Francisco Marriott, March 22-24, 2005.

Cleantech Venture Network also announced that Global Environment Fund will continue its role as the premier sponsor of the Cleantech Venture Forum Series. Other lead sponsors of the event include: Heller Ehrman White & McAuliffe LLP, EnerTech Capital, NGEN Partners, Odyssey Venture Partners and RockPort Capital Partners. Additional sponsors are GE Commercial Finance, US Venture Partners, Expansion Capital Partners, Braemar Energy Ventures, Technology Partners, Wilson Sonsini, Nth Power, Leading Edge BC, Green Mountain Engineering, Angeleno Group and Hamilton Clark & Co.
"Cleantech Venture Network is honored to have Alan Salzman, an early Cleantech participant whose Fund is one of the most active investors in cleantech venturing, to open the sixth edition of our Cleantech Venture Forum Series. Additionally we are excited to announce that Global Environment Fund will continue as the Premier Sponsor of the Cleantech Venture Forum," said Nicholas Parker, co-founder and chairman of the Cleantech Venture Network. "The prospects of cleantech investment and enterprise are increasingly gaining the attention and support of the venture capital community. We look forward to hearing Alan's unique perspective on the global development, status and future of cleantech."
Alan also held a faculty appointment at Stanford Law School as an Adjunct Professor for Venture Capital and Start-up Companies from 1988-2000.
About Cleantech Venture Forum Series
The Cleantech Venture Forum is held three times a year, once on both the East and West Coasts, and, for the first time, Cleantech Venture Forum expands to Europe May 17-19, 2005 in Paris at the Intercontinental Hotel Paris. During the Forums, attendees listen to presentations from companies in the clean technology industry, participate in meetings with key investors including business angels, venture capitalists, fund managers, investment bankers and corporations, and take advantage of leading-edge information and research on investment opportunities from leading thinkers on clean technology innovations and trends.
About the Cleantech Venture Network, LLC
The Cleantech Venture Network LLC is an organization that connects venture, corporate and institutional investors with "clean technology" entrepreneurs through related information products, online services and the Cleantech Venture Forum series of events. We serve over 500 affiliate investor member firms worldwide. We have tracked more than $3 billion invested in cleantech ventures since 2002, of which nearly $275 million has been raised by Forum-presenting companies. Further information can be found at www.cleantech.com or by calling (+1) 517-223-9607.
Cleantech Venture Network invites companies and investors engaged in commercializing or investing in clean technologies to apply for membership as a Company or Investor. For details, contact Cheryl Blain at cheryl@cleantech.com.
Featured Product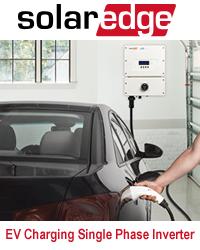 The SolarEdge PV inverter combines sophisticated digital control technology with efficient power conversion architecture to achieve superior solar power harvesting and best-in-class reliability. The fixed-voltage technology ensures the solar inverter is always working at its optimal input voltage over a wider range of string lengths and regardless of environmental conditions. A proprietary data monitoring receiver has been integrated into the inverter and aggregates the power optimizer performance data from each PV module. This data can be transmitted to the web and accessed via the SolarEdge Monitoring Portal for performance analysis, fault detection and troubleshooting of PV systems.