8-bit HC908LB8 microcontroller designed to improve effectiveness and reduce system complexity and cost
AUSTIN, Texas - Feb. 21, 2005 - Lamp ballast designers can now meet demands for energy efficiency by using an advanced 8-bit microcontroller from Freescale Semiconductor (NYSE:FSL, FSL.B). The HC908LB8 helps create more energy-efficient and cost-effective lamp ballast systems compared to traditional technologies on the market today.

The high level of integration on the HC908LB8 helps simplify overall system design. This makes the device an attractive solution for smart fluorescent lighting, motor control, high-intensity discharge lighting and applications that require power factor correction and/or high-resolution pulse width modulation (PWM).
The drive for energy efficiency
Industrialized countries throughout the world are committing to improve energy efficiency and cut greenhouse gas emissions over the next decade. In some cases, this commitment includes legal mandates that the efficiency of traditional systems be improved, forcing a migration to new, innovative solutions.
"One of the most prevalent forms of indoor lighting used today is the ubiquitous fluorescent tube," said Mike McCourt, vice president and general manager of Freescale's Microcontroller Division. "The ever-growing international concern about energy efficiency has prompted new legislation and programs like the Kyoto Protocol and Energy Star®, which have exerted renewed pressure on ballast designers to improve the efficiency of their systems."
Meeting the needs of the lighting market
Power factor correction (PFC), a key requirement in efficient main-powered applications, converts input current to a sine wave in phase with input voltage. The result is increased efficiency, lower signal distortion, reduced running costs and lower noise emissions. The HC908LB8 performs cost-effective PFC, providing an ideal integrated solution for main-powered applications.
Controlling the brightness of individual tubes has consistently provided a challenge for designers of fluorescent lighting systems - the tube is either fully on or off. Freescale helps address this challenge with a new module - the high-resolution PWM (HRP) - which is integrated on the HC908LB8 to continuously control the brightness and allow dimming in a fluorescent lighting system.
The HC908LB8 is also capable of supporting the digitally addressed lighting interface (DALI) protocol to provide intelligence in large lighting systems. A DALI-based system, for example, can be programmed to turn off (or dim) lights near windows, where adequate natural light is available.
In typical lamp ballast applications, the HC908LB8 could help reduce the total number of discreet digital system parts by up to 50 percent. This helps deliver the additional benefits of space conservation - reduced board and manufacturing costs and decreased administration overhead.
HC908LB8 features
The HC908LB8 is based on Freescale's HC08 central processing unit (CPU), with an 8 MHz internal bus frequency and software within +/- 2% accuracy. Specific features include:
-- 8KB flash memory, 128B random access memory (RAM)
-- High-resolution PWM (HRP)
-- Two PWM outputs with dead-time insertion
-- Shutdown input
-- Output resolution of 3.9ns using frequency dithering
-- Variable frequency and variable duty cycle modes
-- Power factor correction
-- Two-channel PWM module, featuring fault input detection and shutdown
-- Integrated operational amplifier/analog comparator module
-- Seven-channel, 8-bit analog-to-digital converter
-- 1 x 16-bit timer with interrupt
-- Low voltage inhibit and computer operating properly for noise immunity and software safety
-- Clock generation module with resistor-capacitor (RC), internal and external crystal options
-- Up to 18 input/output (I/O) (multiplexed with peripherals)
-- Keyboard interrupts on seven I/O pins
-- High current sink/source on I/O. Typical 10mA
Speeding system development
Freescale is committed to helping reduce developers' time-to-market by offering affordable development hardware (evaluation board and demonstration board), reference designs, application notes and online tutorials. The Metrowerks Code Warrior' integrated development environment (IDE), Special Edition is also available.
To demonstrate the device's capabilities, Freescale has developed a fully functional reference design (dimmable light ballast control with PFC). Associated software, schematics and BOM are available for download on the Freescale Web site. For more information about the HC908LB8 and services and support available, visit http://www.freescale.com/files/pr/HC908LB8.html.
Price and availability
The HC908LB8 is currently available in production quantities. Suggested resale pricing in 100,000-piece quantities is $1.60 (USD) in either 20-pin small outline integrated circuit (SOIC) package or plastic dual-inline package (PDIP).
The DEMO908LB8 demonstration board is available for a suggested resale price of $49.95 (USD), which includes a complimentary Metrowerks Code Warrior IDE, Special Edition.
About Freescale Semiconductor
Freescale Semiconductor, Inc. (NYSE:FSL, FSL.B) is a global leader in the design and manufacture of embedded semiconductors for the automotive, consumer, industrial, networking and wireless markets. Freescale became a publicly traded company in July 2004 after more than 50 years as part of Motorola, Inc. The company is based in Austin, Texas, and has design, research and development, manufacturing or sales operations in more than 30 countries. Freescale, a member of the S&P 500®, is one of the world's largest semiconductor companies with 2004 sales of $5.7 billion (US).
www.freescale.com
Freescale Technology Forum
Learn more about this inaugural forum, June 20-23, Orlando, Fla., featuring visionary keynote speeches, in-depth technical presentations and technology demonstrations from Freescale and leading hardware, software and tools providers. www.freescale.com/ftf
Featured Product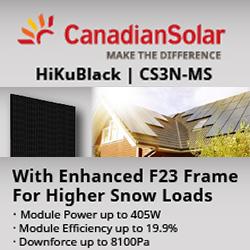 Aesthetic appearance for residential systems: With black backsheet & black frame, Power range 380 ~ 405 W, Low power loss in cell connection. Enhanced reliability: · Low temperature coefficient (Pmax): -0.34 % / °C, LID LeTID less than 2.0%, Lower hot spot temperature, Better shading tolerance.