"Global Blueprint for Energy Efficiency in Buildings" workshop focuses on the pressing worldwide need for greater energy efficiency
Washington, D.C., March 9 - The "Global Blueprint for Energy Efficiency in Buildings" workshop focuses on the pressing worldwide need for greater energy efficiency and sustainable development in the buildings sector, which consumes 40 percent of the world's raw materials, 40 percent of the world's energy, and 16 percent of the world's fresh water supply. The unique two-day workshop, convened by the Alliance to Save Energy, will highlight and study policies and programs that have speeded market development of energy-efficient building practices around the world.

The workshop is sponsored by the Renewable Energy and Energy Efficiency Program (REEEP), the North American Insulation Manufacturers Association (NAIMA), and the European Insulation Manufacturers Association (EURIMA). It brings together an elite roster of 60 expert policymakers, business representatives, and academicians from Mexico, Canada, Europe, and the U.S. to pursue a sustainable plan for buildings.
The workshop's goals are to assess the status of energy efficiency in various geographic regions and recommend "best practices;" to establish a common base-line for measuring the energy savings resulting from energy-efficiency policies and practices; to expand REEEP's institutional expertise on the status of energy-efficiency practices and policies worldwide; and, most importantly, to disseminate information and recommendations that could prompt countries around the world to undertake new and/or additional energy-efficient building practices.
"The 'Global Blueprint' workshop represents the first of an anticipated series of forums to advance energy-efficiency in the buildings sector worldwide," said Alliance President Kateri Callahan. "The replicable 'best practices' emerging from this and future REEEP workshops will help to catalyze the construction of energy-efficient, sustainable buildings around the globe, because such action not only makes good environmental sense, it makes good business sense."
"Building energy efficiency is important not only because it saves consumers money and protects our environment, but also as a critical component of energy security and improved public health," said NAIMA President and CEO Kenneth D. Mentzer. "This workshop provides a forum to explore those policy, program, and social issues which support energy efficiency in the building sector so we can share those real-world advancements that can be implemented today to improve the energy efficiency of buildings around the world."
- more -
"With the threat of climate change becoming more certain and Europe's dependence on foreign energy supplies growing, EURIMA believes it's time to make energy efficiency in buildings a number one priority for Europe," said EURIMA Director General Horst Biedermann. "New evidence on the cost-effectiveness of energy-efficiency measures shows that Europe could save over 13 billion EURO a year by 2015 through insulating buildings alone. Clearly there is no reason not to act."
####
The Alliance to Save Energy is a coalition of prominent business, government, environmental, and consumer leaders who promote the efficient and clean use of energy worldwide to benefit consumers, the environment, economy, and national security.
Featured Product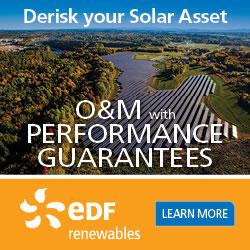 EDF Renewables offers the same innovative solutions that maximize the performance of our own 5.2 GW of installed projects. Because we're not an equipment manufacturer, our recommendations are transparent and data-driven. We cover the entire project lifecycle: from pre-commissioning support, through warranty and post warranty operation, to late stage and decommissioning.