Total Capital Devoted to Cleantech Increases for the Third Consecutive Year; Cleantech Investment Grows to $314.3 Million in Q4 2004
HOWELL, MI, March 16, 2005 - According the Cleantech Venture Network LLC, overall cleantech investment in 2004 totalled $1.209 billion, up 3.4% from the $1.169 billion recorded in 2003 and up 11.4% from the 2002 total of $1.085 billion. The Cleantech Venture Network has tracked $3.464 billion of investment into the cleantech space since 2002. Additionally, in Q4 2004 investment into clean technology companies increased for the 3rd straight quarter to $314.3 million, up from $311.6 million in Q3. The Q4 total is the largest in three years since Cleantech Venture Network began tracking the category. This information will be fully examined next week during Cleantech Venture Forum VI at the San Francisco Marriott, March 22-24, 2005.

In 2004, cleantech investment captured $1.209 billion (5.8%) of the $20.9 billion of venture capital invested across all industries. Furthermore, in Q4 2004 Cleantech captured more than 6% of the $5.279 billion invested in North America overall, up significantly from 4.7% in the previous quarter. Cleantech now ranks 7th in size as an industry segment behind Software, Biotechnology, Telecommunications, Medical Devices and Equipment, Semiconductors and Networking Equipment.
"As we look forward to Cleantech Venture Forum VI next week, the Q4 and 2004 figures suggest that cleantech has arrived as a sustainable asset category, avoiding the risk of being classified as a short-term investment 'bubble," said Nicholas Parker, co-founder and chairman of the Cleantech Venture Network. "There is a rising tide of sophisticated corporations, venture capital funds and private investors in the cleantech space, but the one major constraint is the flow of capital from institutional investors. This is a trend that we anticipate will begin to change in 2005, as it is our opinion that the cleantech category is where biotech was about a decade ago."
For the second consecutive quarter cleantech investment leaders RockPort Capital and EnerTech Capital were among the most active investors in Q4. They were joined by SAM Sustainable Asset Management with each firm participating in three cleantech financings, as 10 firms participated in multiple cleantech financings in Q4. In total there were 94 unique investors participating in a cleantech investment in Q4 2004. In 2004 more than 360 different groups participated in at least one cleantech investment.
Additional Key Q4 2004 Data Points:
· Europe Continues to Emerge: Eleven European cleantech investments were tracked in Q4 for a total of $84.1 million. Five of the companies were from the United Kingdom, three3 from Germany, and one each from France, Israel and Norway.
· The Deal Size Remains the Same: The average deal size in Q4 remained consistent at $6.2 million. By comparison, the average investment across all industries again remained virtually unchanged at $7.1 million.
· Focused on Follow-on Financing: Later stage deals continued to receive the bulk of the investment capital, capturing 73.2% of the cleantech total. This percentage was down from the 86.2% recorded in Q3.
· Early Stage Comeback: In Q4 2004, 10 companies received investments under $1 million.
· Energy's Reign Continues: Energy related investment remained strong in Q4, as the segment captured nearly 51% of the cleantech total - $167.8 million, which was virtually identical to the amount received in Q3.
About the Cleantech Venture Network, LLC
The Cleantech Venture Network LLC is an organization that connects venture, corporate and institutional investors with "clean technology" entrepreneurs, through related information products, online services and the Cleantech Venture Forum series of events. We serve over 600 affiliate investor member firms worldwide. We have tracked more than $3.6 billion invested in cleantech ventures since 2002, of which nearly $275 million has been raised by Forum-presenting companies. Further information can be found at www.cleantech.com or by calling (+1) 517-223-9607.
Cleantech Venture Network invites companies and investors engaged in commercializing or investing in clean technologies to apply for membership as a Company or Investor. Companies should contact Lauren Bigelow at lauren@cleantech.com and investors should contact Cheryl Blain at cheryl@cleantech.com.
Featured Product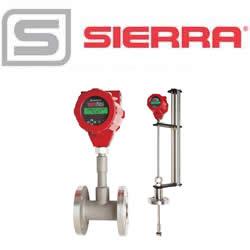 Sierra was the first to introduce a combination volumetric vortex and multivariable mass flow meter in 1997. Today, Sierra's completely redesigned InnovaMass® iSeries™ 240i/241i builds on two decades of success measuring five process variables for gas, liquid and steam with one connection. Now, with the latest hyper-fast microprocessors, robust software applications, field diagnostic and adjustment capability, and a new state-of-the-art flow calibration facility, Sierra's vortex iSeries delivers precision, performance, and application flexibility never before possible.