This unique light is designed to appeal to environmentally-minded, energy-conscious communities (e.g university campuses) and aesthetically-oriented architects and landscape designers alike.
New York , New York . On April 12, 2005 at this year's International LightFair exhibit, SolarOne' Solutions, LLC of Framingham, Ma will proudly unveil a sleek new solar electric overhead white LED light: the SoLed' LX01 for pathway and park lighting. Collaborating with acclaimed industrial designer Amelia Amon, custom solar panel manufacturer, Atlantis Energy Systems and solar cell manufacturer, SunPower Corporation, this unique light is designed to appeal to environmentally-minded, energy-conscious communities (e.g university campuses) and aesthetically-oriented architects and landscape designers alike.

This innovative light incorporates several new "state-of-the-art" technologies including:
* SolarOne's new patent-pending SoLed' - mc2 - Solid State Intelligent Lighting Management System
* Supercharged, space saving, aesthetically pleasing, solar panel made with highly efficient and attractive SunPower solar cells in double-glass encapsulated package
* High brightness, "target-able" white LEDs, offering highly effective, highly reliable all-temperature operation.
"This effectively wireless lighting system embodies the design characteristics and technical innovations that will transform markets, once thought to be mature, into ones that are dynamic and rapidly growing", states SolarOne president, Moneer Azzam.
Solar lights eliminate the need for expensive trenching and high voltage wiring. Their remarkable ease-of-installation can circumvent the common assimilation of outdoor lighting into larger capital projects. SolarOne's exclusive light offers many additional features and benefits:
Sleek yet practical design
* Fully integrated package for faster installation
* Easy access to key components
* Contoured to minimize snow accumulation
* Adjustable lamps
Robust construction for every environment
* Double Glass Solar Panel - 20 year power warranty
* Combination Fiberglass and Stainless Steel Construction
* Stainless Steel Hardware
* Proven, long-life components
Versatile solar charging system
* 30% smaller size than solar panel of comparable power
* 360 degree adjustable orientation of photovoltaic panel to maximize solar gain
Highly Effective System Manager
* Microprocessor controls
* Programmable brightness timing profile
* Adjustable brightness levels
* Highly efficient driver circuit
* Fiber optic lamp controls for isolation from interference sources
* User-selectable battery run-time preservation modes that can effectively double run times
* Motion detection and clock ready
* Harvest-Store' Data logger ready
SolarOne now has hundreds of its SoLed' lighting systems and associated hardware installed across the country and various parts of the globe. For further information on SolarOne' visit www.solarone.net, e-mail at info@solarone.net or call Toll Free 877-527-6461. Further details on Amelia Amon can be found at www.alt-technica.com, Atlantis Energy Systems at www.atlantisenergy.org and SunPower Corporation at www.sunpowercorp.com.
Featured Product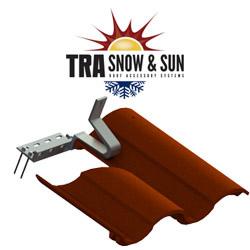 You haven't installed a tile mount that is easier to install than the Solar Tile Mount manufactured by TRA Snow and Sun. Solar Tile Mount is used on all tile roof profiles: flat, mid, and high. It is made in the USA of aluminum alloy for strength and excellent corrosion resistance. Solar Tile Mount is built to allow more ease in installation with more rise from the tile surface to the rail for better air flow below panels. The adjustable base is longer than most allowing attachment 6" to the left or right to have the bracket in the base of the pan of the tile and still fasten to the rafter. Solar Tile Mount is adjustable for counter batten systems from ¾" to 3". The horizontal rail is directly above base fasteners giving greater uplift resistance than any other system. For superior waterproofing apply TRA Snow and Sun's butyl backed VersaFlash aluminum flashing. No tile flashing is needed on top of the tile for greater labor and material cost savings.