Partnership to Manufacture Inverters in Spain
Calgary, Alberta - April 14, 2005 - Sustainable Energy Technologies Ltd (TSXV: STG), a leading developer of advanced power electronics for the global alternative and renewable energy industries announced today that it will partner with Gabriel Benmayor SA ("Benmayor"), a private company based in Barcelona, Spain, to manufacture and distribute the Company's solar inverters for distribution within Spain and other southern European markets.

An affiliate of Benmayor, which markets integrated solar power solutions within Spain, will provide lead orders to the partnership - an estimated 1.3 megawatts ("MW") over the first 12 months - a market value of approximately $900,000.
According to leading industry experts, the European market will show compound annual growth through 2010 in excess of 30%. Overall, the annual market for renewable energy inverters is expected to grow to almost $1.5 billion by 2010, a total value of as much as $4.5 billion, over the next five years.
"The Benmayor partnership is ideal for Sustainable Energy," said Michael Carten, President & CEO of the Company. "Benmayor has more than 40 years experience in manufacturing highly technical products. The partnership positions the SUNERGY inverter as a European product for what is expected to be the fastest growing market for solar power in the world."
Driven by new feed in tariffs, German solar installations were more than 300MW in 2004, up from 120 MW in 2003. 2005 installations may be as much as 400MW. Effective April 1, 2005 Spain introduced a package of incentives even more generous than Germany. With average solar irradiation almost double that of Germany, the Spanish market is poised for growth, and many expect that it will be larger than the entire North American market by the end of 2006.
"We are very excited about our partnership with Sustainable Energy," said Dr. Leon Benmayor PhD. "One of the main issues in the Spanish market is maintaining continuous power output as temperatures rise during the day. Unfortunately, most competitive inverters reduce power output at ambient temperatures as low as 27 degrees Celsius, resulting in significantly less production over the life of the system. The SUNERGY's exceptional thermal performance, which enables the solar array to continue producing at full power to temperatures in excess of 50 degrees Celsius will be very well received in the Spanish market," said Dr Benmayor.
Under the joint venture, Benmayor will assemble Sustainable Energy's inverters for distribution under the SUNERGY brand name, as well as other brand names, within the Spanish and other European markets. Sustainable Energy will provide the core power electronics for the inverters, and will collaborate with Benmayor to develop distribution channels within Spain and other European markets. Benmayor will be responsible for product support within Spain.
Sustainable Energy Technologies Ltd (www.sustainableenergy.com) develops, manufactures and markets advanced power electronics products for emerging alternative and renewable energy markets.
Featured Product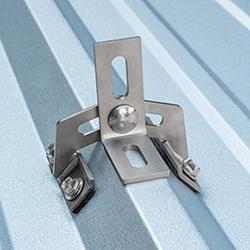 Error-Proof Compression: The QB2 doesn't leave any room for user error when it comes to Microflashing® compression. Once the Dual Drive Shoulder Screw is secured, the Microflashing® is compressed. Only 3 Components: The QB2 is comprised of Microflashing®, an L-foot and a Dual Drive Shoulder Screw. No more Nuts needed to tighten and secure the L-foot! Not only does this simplify the installation process, it also cuts down the installation time.