Magnetek, Inc. manufactures power control products and systems for communications, data processing, industrial automation, consumer products, transportation, alternative energy, utility grid monitoring and other applications requiring highly reliable, precise, energy-efficient power.
Los Angeles, April 25, 2005 ─ Magnetek, Inc. (NYSE:MAG), the world's leading manufacturer of power conditioners for commercial fuel cells, today announced a reorganization of the Company's operating structure to accelerate growth in alternative energy markets. "Alternative energy products currently account for less than 5% of our quarter-billion-dollar annual revenue," said Magnetek chief executive Andrew Galef. "But that revenue has the potential to increase exponentially over the next few years, based on double-digit growth rates in alternative energy markets and proprietary power conversion products that we are now introducing for solar and wind power markets."

Developed by Magnetek's Power Electronics business group in Valdarno, Italy and its Power Control Systems business group in Milwaukee, Wisconsin, these products, together with the Company's existing fuel cell power conditioners, will be consolidated into a separate Alternative Energy business group. "Engineering, manufacturing and technical sales will continue to be decentralized in Valdarno and Milwaukee, as well as in our new 180,000 sq. ft. facility in Shenzhen, China, as required to meet regional customer needs. However, group management will be centralized at Magnetek corporate headquarters in Los Angeles in order to execute a coordinated, cost-effective worldwide strategy," Mr. Galef said.
Designed primarily for the residential market, the flagship of Magnetek's solar product offering is the Aurora' photovoltaic (PV) power inverter. It is so advanced in terms of compact size, efficiency and energy harvesting capability, that the Company received $1.3 million in orders for 2.0-to-3.6 kilowatt Aurora inverters even before they were listed by UL in the United States and passed VDE compliance testing in Europe this February.
Magnetek also has two entries in the wind market: its 4.6-kilowatt MWI' multimode wind inverter, introduced to the European market last year for stand-alone and grid-tied installations; and a modular wind power converter, about to be introduced in the U.S. market, that can be installed in 625-kilowatt modules or 2.5-megawatt "power clusters" to accommodate most utility-scale wind-turbine configurations. The Company has already received commitments to purchase 25 wind power clusters totaling 62.5 megawatts.
"For decades alternative and renewable energy sources have been fighting an uphill battle with comparatively cheap power from existing fossil-fuel-fired and nuclear plants. But finally the tide is changing. Solar and wind, like hydro, deliver pollution-free power with no added fuel costs; and with incentives available in the U.S., Europe and Japan today, both wind and solar have reached installed-cost parity with 'old-power' plants. On top of that, high oil and gas prices have given renewable energy solutions added momentum in the marketplace, and we believe that Magnetek is ideally positioned to participate in the rising 'new power' wave," Mr. Galef concluded.
During the past decade, Magnetek has designed and built power conditioners up to 375 kilowatts for some 160 commercial fuel cell installations totaling over 32 megawatts, making it the world's leading supplier of power conditioners for large stationary fuel cells. The Company also integrates microturbine-based auxiliary power units for back-up and mobile power applications.
Featured Product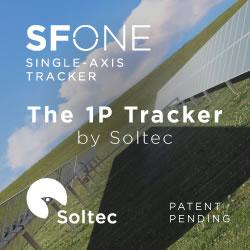 Soltec manufactures and supplies solar trackers designed and proven for extreme climate conditions, which is an ideal solution for any region's environment. Soltec's trackers are self-powered, requiring no additional PV module or grid-powered connection. Bifacial modules collect energy on both the front and rear sides, capturing reflected irradiance from the ground surface under and around the tracker and from other modules. Depending on site conditions, bifacial yield-gain can reach +30 percent.