Expanded alternative energy news sources and features at the Alternate Energy Resource Network
The Alternate Energy Resource Network is proud to announce expanded alternative energy news coverage and resources.

We have added some exciting new feeds for daily alternative energy news from around the world. Just some of the new sources are updated articles and links for hybrid vehicle news, patent news, materials news, science and nanotechnology news. Also featured are new search functions and references for alternative energy. Soon to be announced additions include our archive database as well as WAP service for mobile users who want to get the latest developments on the go.
As always, you can submit news and press releases for free and we have new alternative energy calculators and java simulators to help in prototype/system design and development.
It is now more important than ever to continue the transition to alternative energy sources and we will always strive to do our best to keep you informed.
Featured Product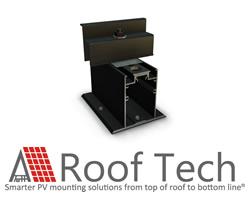 The most compact versatile rail-less PV mounting system under the sun. Instead of placing solar panels on top of long rails, simply attach E Mount AIR to rafters or the roof decking. Once panels are fastened to the roof, the system array is electrically bonded. The result is a visually seamless PV installation that stands the test of time. - Truly "One With The Roof". - PE stamped cert. letters available, UL 2703 Classified, ASTM 2140 fully waterproof. The one and only with integrated flexible flashing certified by the ICC! All the best quality. Only from Roof Tech