Two industrial solar inverters designed and manufactured by Xantrex are included in a 355 kW solar electric system that is now installed at Desert Water Agency, a public water agency in southern California. It is the largest industrial solar power installation in Palm Springs.
VANCOUVER, BC and PALM SPRINGS, CA, April 26, 2005 - Two industrial solar inverters designed and manufactured by Xantrex Technology Inc. (TSX:XTX) are included in a 355 kW solar electric system that is now installed at Desert Water Agency, a public water agency in southern California. Located near the agency's operations center, it is the largest industrial solar power installation in Palm Springs.

SoCal Solar Energy Inc. of Mission Viejo, Calif. installed the photovoltaic system, which incorporates over 2,000 Shell PowerMaxTM solar modules from Shell Solar Industries. Xantrex's PV225 inverters are a key component of the system, converting the sun's energy harnessed by the solar panels into alternating current electricity that is used to power the facility.
"Shell Solar has been using Xantrex's commercial-scale solar inverters in our projects since 1995," said Kevin Mackamul, Director of Systems Engineering, Shell Solar Industries. "We have high confidence in Xantrex's inverters because they are reliable and efficient. We also like that Xantrex has a range of transformers for grid-tie applications that are versatile and easy to install."
Sunny Palm Springs is an ideal location for solar energy systems. This installation will serve as a model for natural resources conservation and environmental consciousness to other utility companies said Desert Water Agency General Manager Dave Luker.
"One of the agency's biggest operating expenses is electricity," Luker said. "It takes a significant amount of electricity to run our air-conditioned headquarters and pump water from the groundwater aquifer. With worldwide energy shortages and escalating energy costs, our new solar electric system will decrease operating costs and produce clean, renewable energy at the same time."
With a predicted energy performance of 662,000 kilowatt hours per year, the photovoltaic installation will offset virtually 100% of the operation center's electric bills. The system will save DWA more than $70,000 annually or more than $2.4 million over the life of the system.
Southern California Edison Company Self-Generation Incentive Program also offers rebates to customers that invest in solar power and will provide a rebate to DWA for half of the installed solar system's cost.
Desert Water Agency is a non-profit public water agency that contracts with the State of California to supply water to Palm Springs, parts of Cathedral City and the unincorporated areas of Desert Hot Springs. DWA provides a range of services that emphasize water efficiency and purity including water service, sewer services, engineering and planning, water recycling, and rules and regulations for private wells.
About Shell Solar
Shell Solar has been active in the solar business for over 30 years and was among the first businesses to contribute to the development of solar technology that is marketed across the world today. To date, Shell Solar has supplied solar cells and modules with a total capacity of more than 400 MW worldwide, specialising in applications for individual households as well as large power installations. Over a quarter of a million customers have been served in supplying grid-connected and off-grid solar systems. Shell Solar is active in more than 75 countries with a workforce of 1,300 and is part of Shell Renewables, a core business of the Royal Dutch/Shell Group of Companies.
About Xantrex
Xantrex Technology Inc. (www.xantrex.com) is a world leader in the development, manufacturing and marketing of advanced power electronic products and systems for the distributed, mobile and programmable power markets. The company's products convert raw electrical power from any central, distributed, or backup power source into high-quality power required by electronic and electrical equipment. Headquartered in Vancouver, British Columbia, the company has facilities in Arlington, Washington; Livermore, California; Elkhart, Indiana and Barcelona, Spain. Xantrex is publicly listed on the Toronto Stock Exchange under the ticker symbol "XTX".
Note that this news release contains forward-looking statements related to Xantrex Technology Inc. Such statements reflect the current views of Xantrex with respect to future events and are subject to risks and uncertainties that could cause actual results to differ materially from those contemplated in these forward-looking statements.
- 30 -
Media Contact:
Maria LoScerbo
Xantrex Technology Inc.
604.422.2589
maria.loscerbo@xantrex.com
Featured Product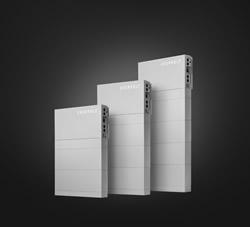 Heterojunction technology minimizes electron loss - Thin amorphous silicon layers reduce electron carrier loss to minimal levels. The result is a remarkably high-efficiency solar cell that produces Greater long-term energy output. Innovative pyramid structure absorbs more sunlight - A uniquely effective pyramid structure optimizes sunlight capture. By reducing outward reflection and directing sun rays inward to the cell, HIT absorbs more sunlight and generates more electricity for your home. Dual-sided cells multiply energy output - Advanced bifacial cells work in concert with the pyramid structure to multiply solar power output exponentially. Available sunlight is captured from both sides of the panel, converting more sunlight into electricity.