Free service on Off-Grid web site attempts to circumvent money as a means of exchange.
Off-Grid, the web magazine promoting living outside the system of water, power and phone grids, has launched a new service for readers.

Using software on the site, readers can offer goods or service for barter. They can upload their offers or requirements for free.
Off-Grid Barter co-ordinator Andy Tucker said: "Barter is a local phneomenon. Most exchanges happen within a short distance. We hope to build up the number of users so anyone in the US, Canada or the UK can be fairly sure they will be speaking to like-minded people in their local neighborhood.
Contact Andy Tucker -
+44 207 729 2749
Featured Product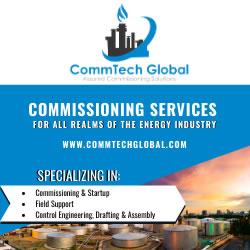 CommTech Global Solutions, LLC, provides professional and reliable commissioning services to customers in all realms of the energy industry. We blend our skills in engineering and technology with innovative business models, offering a complete range of services to assist you for a successful and in compliance operational startup. Consolidation of all our service domains gives our clients a comprehensive set of expertise and far-reaching experience on each project.