ICP SOLAR ANNOUNCES PARTNERSHIP WITH TITAN ENERGY SYSTEMS AND THE OPENING OF A NEW DISTRIBUTION FACILITY IN TEXAS Manufacturing and supply chain enhancements increase productivity and accelerate distribution capabilities
MONTREAL, QC, May 31, 2005 - ICP Solar, a leading manufacturer of products based on advanced solar technology, today announced a partnership with Titan Energy Systems of Andhra Pradesh, India and officially opened a new distribution center in Dallas, Texas.

Titan Energy Systems is a leading manufacturer and exporter of crystalline and amorphous solar modules. Founded in 1995, Titan has established a solid reputation as a provider of solar modules to markets worldwide.
ICP's partnership with Titan accomplishes two strategic business objectives:
First, ICP will now ship solar cells, made at its UK plant, to Titan's facility in India for lamination and finishing. This process will increase efficiency and productivity through specialization. Expertise in manufacturing will remain centralized at ICP's plant in Bridgend, while lamination and finishing is done by Titan in India in order to leverage area expertise and reduced fixed costs.
Second, Titan will resell finished ICP solar panels through its distribution channels in India and the Pacific Rim. Titan's commitment is to purchase up to 1 MW by the end of the year (as a comparative reference, 1 MW represents approximately 60,000 1ft.x3ft. solar panels). For ICP, this relationship provides increased lamination and finishing capacity and flexibility, unprecedented access to emerging markets and an increased percentage of the total global market of "off-grid" solar energy products.
"Our new partnership with ICP leverages complementary areas of expertise to create value for both companies," said Sankar Chodagam, CEO, Titan Energy Systems. "Titan's capabilities are well-established within the solar energy industry. And, we have a unique ability to resell ICP products within key growth markets. We look forward to sharing numerous rewarding opportunities with ICP," Mr. Chodagam added.
Additionally, ICP has opened a new distribution center in Dallas, Texas. This geographical location offers exceptional efficiencies due to transportation infrastructures and proximity to key markets. Solar modules from India and finished goods from China are shipped to Long Beach, California and on to Dallas directly via rail. From Dallas, goods flow into a variety of distribution and retails channels with unprecedented speed and efficiency.
"ICP has made a major financial commitment to streamlining the end-to-end production-distribution chain," said Sass Peress, CEO, ICP Solar. "Through our partnership with Titan Energy Systems, we are increasing specialization and elevating productivity - solar panels will continue to be made in Wales, but lamination and finishing will now take place in India. Similarly, the Dallas facility enables ICP to serve its largest growth market - the southern US - better than ever. Overall, we are applying a global specialization strategy in order to leverage regional efficiencies and skill-sets in order to produce the highest quality core technology and finished products in the highly competitive solar energy market," Mr. Peress added.
About ICP Solar
ICP Solar is a leading manufacturer of products based on advanced solar technology. ICP Solar develops innovative solar-powered products that respond to the needs of consumer, commercial and OEM clients. Founded in 1988, ICP Solar has distribution networks in more than 160 countries worldwide. Headquarters in Montreal, Canada, ICP Solar also has manufacturing and distribution facilities in the UK, Hong Kong and Germany. For more information, please visit www.icpsolar.com, write press@icpsolar.com, or call 1-888-427-7652.
Featured Product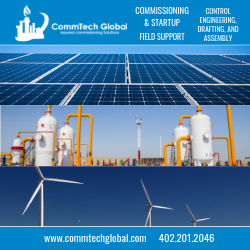 CommTech Global Solutions, LLC, provides professional and reliable commissioning services to customers in all realms of the energy industry. We blend our skills in engineering and technology with innovative business models, offering a complete range of services to assist you for a successful and in compliance operational startup. Consolidation of all our service domains gives our clients a comprehensive set of expertise and far-reaching experience on each project.