Designed for residential use, Aurora inverters change direct electrical current produced by solar panels into utility-grade alternating current and provide the power transmission grid protection required by electric utilities in Europe as well as the U.S.
Los Angeles, CA, U.S.A., May 24, 2005 - The Aurora' indoor solar power inverter line from Magnetek, Inc. (NYSE: MAG) has received the INTEL DESIGN AWARD as one of the five best designs at INTEL 2005, the international biennial electrical engineering, electronics, lighting, industrial automation, security and components show held May 17 through 21in Milan, Italy.

Developed at Magnetek's Valdarno, Italy design center, Aurora indoor inverters are uncommonly sleek and compact, weighing less than 16 pounds. They offer the highest power density of any solar power inverter on the market today, and are well suited for installation anywhere in the home.
The INTEL DESIGN AWARD competition, now in its fourth biennial year, provides a unique showcase of the latest in international electrical, electronic, lighting, industrial automation and security products. An International Jury of experts examines all of the hundreds of products on display at the show and selects five most outstanding based purely on design, defined as "the humanization of technology, the principal agent of sustainable socio-economic and socio-cultural development, the expression of complexity resolved."
The INTEL DESIGN AWARD citation states that Aurora is "an extremely reliable product (estimated useful life 25 years), achieved by using advanced design and quality manufacturing criteria. Aurora offers unmatched performance that allows it to harvest more energy from the photovoltaic (solar) cells using special control algorithms. The external look, innovative and attractive, with the integrated graphical display and the many data communication options, is designed for ease of installation and use. Aurora represents the best choice not only for residential but also for commercial photovoltaic systems, where several units are readily connected in parallel to increase power output."
Magnetek has launched a new website featuring Aurora and other advanced products for the alternative energy market, such as power interfaces for wind turbines and fuel cells. The site address is http://www.alternative-energies.com.
Magnetek manufactures digital power products and systems used in applications requiring highly reliable, controllable, energy-efficient power. It operates manufacturing and research facilities worldwide and reported total revenue of $243 million for its 2004 fiscal year, which ended on June 30, 2004.
Featured Product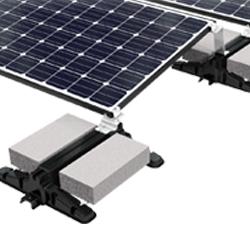 The Power Rail™ Commercial Mounting System is designed with the professional PV solar installer in mind. Both the XD/UD and LD/MD rails feature single tool assembly with the revolutionary patented RAD™ Lock-in-Place bolt for fast and secure module clamping. The high strength marine-grade aluminum rails include an integral wiring channel for securing cables and providing a professional finish.