§ America's Leading Neighbourhood Electric Vehicle Is Coming To Europe § Perfect driving alternative for Europe's Cities and many other transportation needs. § GEMs are completely zero emission and 100% electric.
MONTE CARLO, Monoco - Global Electric Motorcars, and parent company DaimlerChrysler, debuted the European versions of their industry-leading 2005 GEM Neighbourhood Electric Vehicles (NEVs) at the Electric Vehicle Symposium in Monoco. The special European versions of the cars will become available for sale starting in early summer of 2005 in selected markets throughout Europe.

The GEM gained notoriety last year when it became the official transport vehicle for the G8 Summit that was held in Sea Island, Georgia in the United States. The cars were specially designed for the leaders of 9 governments including France, Germany, Italy, Russia, Great Britain, and the European Union.
The European version 2005 GEMs will be sold through specially selected distributorships around Europe. Four models will be sold: the e2 which is a two-passenger coupe, the e4, a four-passenger sedan, as well as the eL and eS, which are two passenger cars designed with cargo beds for hauling light cargo.
"The official European launch is an event that we have been building up to for the last few years," said Richard J. Kasper, President & COO of Global Electric Motorcars, LLC. "We are proud to be bringing zero-emission driving to the streets and neighborhoods of Europe."
"Zero-emission GEMs provide clean, quiet, efficient and affordable transportation. As an alternative to conventional combustion-powered vehicles, they can have a significant impact on air quality. And best of all, GEMs are fun to drive," adds Kasper.
Improvements that were recently integrated into the 2005 GEMs include a new front suspension, a wider track and improved steering for increased manoeuvrability, a new drive motor controller that provides enhanced regenerative braking and improved top speed regulation as well as a new digital driver information display.
Over 30,000 GEMs have been produced and distributed across the United States and a few other international locations. The cars can be seen in settings such as city centres, master planned communities, rural areas, military bases, parks, industrial developments, airports, and university campuses.
"All the projections are for continued growth in the international marketplace for neighbourhood electric vehicles," said Larry Oswald, GEM CEO and Director of the GEM and Electric Vehicle Product Team for DaimlerChrysler. "GEM is already the industry leader in this market, and with the European release we are poised to broaden our leadership."
Within the United States GEM vehicles are street-legal in most states and can be driven on roadways with speeds of 35 mph or less. The vehicles have a top speed of 25 mph and meet all safety standards established by the United States Federal Government for Neighbourhood Electric or Low Speed Vehicles. Similar standards are expected to be adopted in Europe.
Oswald noted that GEMs are just one of the approaches taken by DaimlerChrysler to produce and sell cleaner vehicles:
· Improved internal combustion engines and power trains.
· Alternate fuel vehicles, including nearly 1.5 million vehicles that can be operated on E85 fuel made from renewable ethanol.
· High-efficiency diesels, including the Jeep® Liberty CRD SUV and Mercedes-Benz E 320.
· Hybrid electric vehicles, beginning with the Dodge Ram Quad Cab diesel electric hybrid vehicle marketed in late 2004, and the Orion VII diesel electric hybrid buses in use in New York City.
· Fuel cell vehicles, where DaimlerChrysler has accumulated real world experience from more than 100 of these advanced technology vehicles, including F-Cell passenger cars, Sprinter vans and Citaro city buses..
"We are proud of our role in establishing a new market niche for NEVs which have the potential to make significant contributions to cleaner air in some of our most environmentally sensitive areas."
- ### -
Additional information and news from Global Electric Motorcars, LLC, is available on the Internet at: www.gemcar.com.
Additional information and news from DaimlerChrysler is available on the Internet at: www.media.daimlerchrysler.com.
Featured Product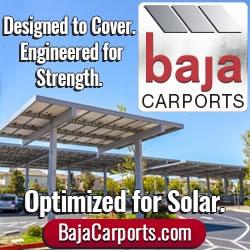 Baja Carports offers an extensive solar support system product line customized to customers' site specifications by in-house engineers, meeting their parking lot coverage, plus optimal PV production needs. Baja's Full Cantilever Tee is often paired with its Semi and Full Cantilever carports to meet live/loads up to 60psf and wind speeds to 160mph. All Baja products are pre-fabricated, bolted connections, pre-galvanized structural steel for fast on-site installation and project aesthetic requirements."