ICP ranks 166 out of Canada's 200 fastest-growing companies
MONTREAL, QC, June 28, 2005 - ICP Solar, a leading manufacturer of products based on advanced solar technology, today announced that it has been recognized by PROFIT magazine as one Canada's fastest-growing companies.

Ranking Canada's fastest-growing companies by five-year revenue growth, the "PROFIT 100" profiles the country's most successful companies. The 17th annual "PROFIT 100" is Canada's largest celebration of entrepreneurial achievement.
ICP reported revenue growth of 312% for 2004 over 1999, making it number 166 on the "PROFIT 100 NEXT 100".
"We are very proud to have been recognized by Canada's leading magazine for entrepreneurs," said Sass Peress, CEO, ICP Solar. "Inclusion in the "PROFIT 100 NEXT 100" puts ICP in the company of Canada's most innovative and vibrant companies. With our enduring commitment to the solar energy industry complemented by several new international strategic business initiatives, we look forward to contacting PROFIT in a few months with even more impressive growth numbers for 2005!" Mr. Peress added.
About ICP Solar
ICP Solar is a leading manufacturer of products based on advanced solar technology. ICP Solar develops innovative solar-powered products that respond to the needs of consumer, commercial and OEM clients. Founded in 1988, ICP Solar has distribution networks in more than 160 countries worldwide. Headquarters in Montreal, Canada, ICP Solar also has manufacturing and distribution facilities in the UK, Hong Kong and Germany. For more information, please visit www.icpsolar.com, write press@icpsolar.com, or call 1-888-427-7652.
Featured Product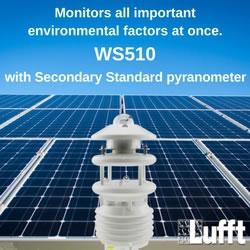 Professional weather sensors form the heart of large solar plants supporting their operation and performance. Lufft was the first manufacturer to combine several sensors in one housing, bringing the largest multiparameter weather sensor family with 19 members into being. Many of them are well-suited for solar site assessment and continuous monitoring. The most commonly used one is the WS600 delivering data on temperature, air pressure, wind, relative humidity and precipitation. Through its open protocol, it can easily be attached to radiation sensors e.g. from Kipp&Zonen. Other models have an integrated Silicon, Second Class or Secondary Standard radiation sensor.