Sustainable Energy Technologies Ltd (TSXV: STG) today announced that it has commenced commercial production of the SUNERGY 5 inverter for the solar photovoltaic (solar PV) market.
Calgary, Alberta, Canada - July 14, 2005 - Sustainable Energy Technologies Ltd (TSXV: STG) today announced that it has commenced commercial production of the SUNERGY 5 inverter for the solar photovoltaic (solar PV) market. The first units are being manufactured in Canada, and are being delivered to Free Power S.L. under a previously announced supply contract with that company.

"These shipments mark an important transition for Sustainable Energy," said Michael Carten, the Company's President & CEO. "Although we have been manufacturing inverters for the stationary fuel cell industry for more than 2 years, the fuel cell market is pre-commercial, and will not provide the revenue growth that we are looking for until 2007 or 2008. Commencement of commercial production of the SUNERGY series of inverters not only demonstrates the value of our power electronics platform to serve multiple markets, but positions the Company for significant growth over the coming months.
"We are entering one of the fastest growing markets for solar PV in the world, with a well established partner, and with a product that is ideally suited to the market," Carten added. "In addition to having electrical conversion efficiencies that are among the highest in the industry, the SUNERGY inverter has the highest thermal rating in the industry, operating at full power in temperatures in excess of 500 C. This enables the solar PV array to continue operating at full power during the sunniest parts of the day, when competitive inverters have shut down, or have substantially reduced their power output. This is critically important to project economics in a market that is increasingly dominated by investor-owned projects."
"We are currently committing all our Canadian production to Spain and our plan is to begin higher volume production in Barcelona by the end of this summer, under a previously announced partnership with Gabriel Benmayor SA. We expect to gain a significant share of this market, and to be in a position to enter other European markets very quickly."
Sustainable Energy (www.sustainableenergy.com) develops manufactures and markets advanced power inverters for the renewable energy industry. Power inverters are strategic to the integration of new renewable energy technologies - solar and wind power, fuel cells, and energy storage systems - into the power infrastructure.
Industry experts estimate that the market for renewable energy inverters will grow from $1.1 billion currently, to more than $4.7 billion per year by 2010.
The Company's proprietary technologies enable the same power electronics and control software to be used for multiple technologies and product applications - an industry first that will lead to lower manufacturing costs and greater product reliability. The core power electronics used in the SUNERGY series of solar PV inverters have been refined and proven over the past two years in the very demanding fuel cell environment.
Free Power SL www.freepower.es based in Barcelona Spain is a leading distributor of products to the solar power industry.
Certain statements contained in this press release may be considered as forward-looking. Such forward-looking statements are subject to risks and uncertainties that could cause actual results to differ materially from estimated or implied results.
The TSX Venture Exchange does not accept responsibility for the adequacy or accuracy of this release.
For Further Information please contact:
Michael Carten, President and CEO
P. 403-508-6990
E. Michael.Carten@SustainableEnergy.com
Phil Winters, Marketing and Investor Relations
P. 416-586-0705
E. Phil.Winters@SustainableEnergy.com
Featured Product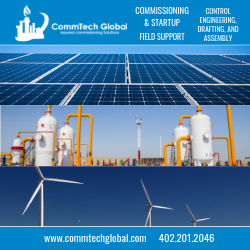 CommTech Global Solutions, LLC, provides professional and reliable commissioning services to customers in all realms of the energy industry. We blend our skills in engineering and technology with innovative business models, offering a complete range of services to assist you for a successful and in compliance operational startup. Consolidation of all our service domains gives our clients a comprehensive set of expertise and far-reaching experience on each project.