A solar-powered straw bale natural foods store is having its grand opening in Helena, Montana…. a truly 'green' building!
In early 2004, Oasis Montana Inc, a photovoltaic renewable energy supplier located in western Montana, began working with Dirk Ellis of Western Skys, Ltd., to design a grid-tie solar system for his new natural food store & coffee roaster in Helena, MT. This isn't your run-of-the-mill building! Its construction is post & beam, but in filled with baled straw utilizing a three-coat cement-based plaster on the interior and exterior wall surfaces to provide superior thermal & noise insulation, as well as an exceptional fire shield versus standard "stick" wall construction. The front of the building faces true south in a passive solar set-up, which allows the sun in during the winter months to reduce the heating and lighting load. Properly designed overhangs keep the hot summer sun out while still providing indirect sunlight for lighting purposes. Dirk has also incorporated a rainwater collection system into the overall design which will collect runoff from the building's roof and parking lot and store it in a large buried tank to be used later for the site's landscaping needs.

The building's most noticeable feature is a 12.7kW grid-tie photovoltaic system (partially funded by a grant from Northwestern Energy, the local utility) that, during certain times of the year, should supply over half of the building's energy needs. This batteryless PV system features 76 Kyocera KC167G (167W) solar modules wired through five SMA Sunny Boy grid-tie inverters and then on to the building's main AC distribution panel. From there the solar power is either used directly by the AC loads that are on at the time or it is sold back to NWE (turning Strawhouse Market's kilowatt-hour meter backwards) if the solar array is producing an excess of power. This type of batteryless system is more efficient and less expensive than a battery-based setup, but for safety reasons it will shut down during a utility outage so it cannot supply any backup power. All five SMA Sunny Boy inverters will be connected to a single control/monitor unit that will display the system's instantaneous power and cumulative energy production on a separate monitor just inside the building's front entrance. Oasis Montana Inc. of Stevensville, MT, provided the PV equipment, CAD-generated wiring diagrams, and bulk of installation.
The switch for the utility tied system was 'flipped on' in early May, and Saturday, July 30th is their grand opening of their store at 1050 Road Runner Drive in Helena. Visit their web site (www.strawhousemarket.com) or give Oasis Montana a call (toll-free 877-627-4768, or visit www.oasismontana.com or www.grid-tie.com) for more information on this exciting project. While this building does have a higher up-front cost than one using standard construction, its advanced features and energy efficient systems will definitely pay for themselves in the long run. We hope many legislators in our state capital will take notice of this innovative project and make it easier for others to follow in Dirk's footsteps.
If you would like to see a couple of pictures of this project, just send us an e-mail to info@oasismontana.com
Featured Product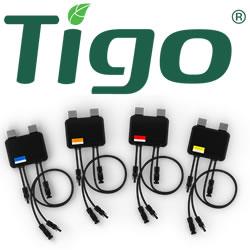 Tigo will announce the new product launch of the patented UHD-Core TS4-A (Advanced Retrofit/Add-on) Platform at SPI 2019. The new TS4-A-M (Monitoring) & TS4-A-S (Safety) units have improved lightweight hardware and lower labor costs to address a range of functions and budgets. The TS4-A-M allows module-level monitoring via Tigo's SMART Website & App. The TS4-A-S is UL-certified as a rapid shutdown solution for residential and C&I PV system. Both units join the Tigo's multivendor solution that works with almost any inverter and smart module in the global PV market. Contact sales@tigoenergy.com for pricing, shipping, and availability in Q4'19.