Cleantech captures 7.3% of Venture Capital in North America
Cleantech captures 7.3% of Venture Capital in North America

ANN ARBOR, MI, August 3, 2005 - According to the Q1 2005 Cleantech Venture Monitor, investment in cleantech surpassed $336 million in the first quarter, the second highest figure ever for a single quarter and the fourth straight quarterly increase. This is the largest Q1 total on record in the three years Cleantech has been tracking the investment category. Investments in cleantech were up 4.8% from the same quarter a year ago and up 10.3% from Q1 2003. The Monitor was compiled by the Cleantech Venture Network LLC, a for-profit membership group that connects venture and institutional investors with entrepreneurs.
Reflecting an influx of new capital into the cleantech space and increasing investor confidence, early stage investments took the majority of capital in the quarter. Seed and first round financings captured 53% of cleantech venture capital in Q1 compared to 27% and 13% in the two previous quarters respectively. A majority of early stage activity was centered in California, where Silicon Valley sees the potential in cleantech investment.
"This is the largest Q1 on record, and it reflects our belief that the investment community sees a wide-range of promising venture opportunities at all levels in cleantech," said Nicholas Parker, chairman and co-founder of the Cleantech Venture Network LLC. "The push towards cleantech investing from major national and global institutions, such as GE's recently announced 'Ecomagination' initiative and the commitment from institutional investors in California to commit more then $1 billion in capital to cleantech, is an affirmation that the category offers a promising future for cleantech entrepreneurs and investors."
Impressively, there were 111 different investors participating in the 49 Q1deals, up from 94 the previous quarter. In addition 10 investors participated in 2 or more deals. The most active cleantech investor in the quarter was materials specialist Harris & Harris Group, which synchronizes with the associated rise in materials related deals in Q1. Harris & Harris Group, was joined this quarter by continued activity from stalwarts Rockport Capital Partners, EnerTech Capital and Foundation Capital with each firm participating in three cleantech financings.
"After the unprecedented success of the Cleantech Venture Forum series earlier this year in San Francisco and Paris, we are looking forward to seeing both our old and potentially new members at Cleantech Venture Forum VIII in Washington D.C. in October," said Keith Raab, CEO and co-founder, Cleantech Venture Network LLC. "We look forward to working with our sponsors and membership to enhance and expand the understanding, interest and profile of the cleantech investment category around the world, as we expand into Asia in 2006."
Key statistics for Q1 2005:
* Cleantech Is Here to Stay: Cleantech captured 7.26% of the $4.61 billion invested in North America overall, up significantly from 6.0% in the previous quarter.. Cleantech now ranks 7th in size as an industry segment behind Software, Biotechnology, Telecommunications, Medical Devices and Equipment, Semiconductors and Networking and Equipment.
* Fourth Straight Quarter of Growth: Investments into clean technology companies increased for the 4th straight quarter to $335.9 million, up from $314.3 million in Q4.
* Europe Continues to Emerge: An additional six European investments were tracked in Q1. A total of $58.6 million was invested in the companies which reported investment numbers.
* Big Deals Decrease: The five largest investments in Q1 represented $94.5 million (28.1%) of the total investment into clean technologies, down from 38.3% in Q4 2004. Two of the five were energy related investments, two were in materials and nanotechnology, and one was an enabling technology.
* Energy Still Dominates: Energy related investing remains strong in Q1 with the segment capturing $123.0 million of investment, but it's percentage of total cleantech investment dipped to 36.7% from nearly 51% in Q4, 2004. Twenty of the 49 total investments into cleantech went into energy related companies.
Key Industry Segment Trends:
* Investment in Energy related companies at $123.0 million was a significant decline from Q4, 2004 at $167.8 million - accounting for 36.7% of the cleantech total in Q1. Transaction volume also declined from Q4 numbers as 20 energytech companies received funding.
* Water Purification and Management showed well with four investments for a total of just under $19.4 million in Q1. This is a decline from its Q4, 2004 total of just under $34 million.
* Materials and Nanotechnology investments rebounded with $83.5 million in investment and 10 investments. This is a sizable difference from the $13 million invested Q4, 2004 which was the lowest total quarter recorded in the three years Cleantech has been tracking the sector.
About the Cleantech Venture Network, LLC
The Cleantech Venture NetworkTM LLC is a for-profit membership group that connects venture and institutional investors with entrepreneurs. 'Cleantech' -- is an organization that brings together venture, corporate and institutional investors, "clean technology" entrepreneurs, and service providers through related information products, online services and the Cleantech Venture Forum series of events. We serve over 600 affiliate investor member firms worldwide. We have tracked more than US $3.9 billion invested in cleantech ventures since 2002, of which over US $300 million has been raised by Forum-presenting companies. Cleantech Venture Network has offices in Canada, Europe and the US. Further information can be found at www.cleantech.com or by calling (+1) 517-223-9607.
Cleantech Venture Network invites companies and investors engaged in commercializing or investing in clean technologies to apply for membership as a Company or Investor. Companies should contact Lauren Bigelow at lauren@cleantech.com and investors should contact Cheryl Blain at cheryl@cleantech.com.
Featured Product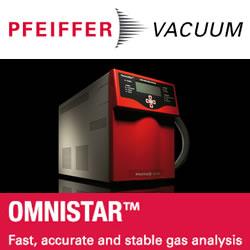 The Pfeiffer Vacuum OmniStar benchtop analysis system offers you a compact footprint, powerful software and Ethernet connectivity. It's the optimum solution for many real-time gas analysis applications. With the OmniStar, Pfeiffer Vacuum offers you a complete solution for gas analysis, in chemical processes, semiconductor industry, metallurgy, fermentation, catalysis, laser technology and environmental analysis. The turnkey OmniStar gas analysis system consists of heated, temperature-regulated gas inlet system, Quadrupole mass spectrometer, a dry diaphragm vacuum pump and HiPace turbopump. Unlike competing methods such as FTIR, OmniStar is suitable for qualitative and quantitative analysis of most gases.