RenewableEnergyStocks.com Reports - Renewable Energy Industry Sees Growing Public Support as Smart Energy Technology Becomes a Viable Option
RenewableEnergyStocks.com Reports - Renewable Energy Industry Sees Growing Public Support as Smart Energy Technology Becomes a Viable Option
Consumer Driven Renewables Surge as Solar Technology Innovation Provides for Seamless Integration.
POINT ROBERTS, Wash., August 11th, 2005 - www.RenewableEnergyStocks.com (RES), an investor and industry news portal for the renewable energy sector reports on factors driving the growth of renewables. As solar technology provides for seamless integration into people's daily lives, providing cost effective means of improving efficiency without sacrificing aesthetics, the market for renewables has escalated to new heights. Companies that have identified this growth as a viable revenue source include Premier Power Renewable Energy Inc., a leading provider of solar panel sales and installations in Northern California and XsunX, Inc. (OTCBB: XSNX), a developer of a Building Integrated Photovoltaics product called Power Glass', a solar glaze desirable for placing over glass, plastics, and other see-through structures.
Report Excerpt: Moving Towards a Smart Energy Society - Consumer Driven Renewables Surge as Solar Technology Innovation Provides for Seamless Integration.
By Ann-Marie Fleming, www.RenewableEnergyStocks.com
August 2005
In the past, solar technology has had to overcome problems with their bulky and mainly unattractive appearance, which despite proven efficiencies faced adoption difficulties. While other factors have played a role in the rise of renewable energy, a significant driver to its success has come from the ability to integrate and blend technology into structures tastefully, with little interruption in the daily routine of the building's residents, owners and caretakers.
Current technologies such as Building Integrated Photovoltaics, which incorporate photovoltaic material into the building itself i.e. walls, roof, and glass, have developed into products that are not only pleasing to the eye, but that also require very little in the way of maintenance costs or efforts as it increases energy production and efficiency. This lack of disruption and the encouraging aesthetic appeal provided through products within the BIPV umbrella, have driven the industry adoption levels forward.
To Read the Full Report Click Here:
http://investorideas.com/Companies/RenewableEnergy/Articles/Smart_Energy.asp
RES does not make recommendations, but offers a unique free information portal to research news, articles, interviews and a growing list of participating public companies in the renewable energy industry.
Featured Company: (RES is compensated by companies as disclosed in disclaimer.)
XsunX, Inc (OTCBB: XSNX) is the developer of Power Glass' - an innovative solar technology that allows glass windows to produce electricity from the power of the sun. This proprietary process is intended to allow manufacturers to apply a transparent and photovoltaic glazing to glass and other transparent substrates. When XsunX glazing is exposed to light, the light energy is converted into electrical energy for use as a power source. XsunX believes that its solar electric glazing technology has a number of major market opportunities in the worldwide architectural glass, optical film and plastics markets.
For Access to the Online Audio Interview with XsunX's CEO Click Here:
http://www.investorideas.com/CO/XSNX/Audio/interview_051705.asp
Corporate Profile, News and Info: http://www.renewableenergystocks.com/CO/XSNX/Default.asp
RenewableEnergyStocks.com offers investors research, news and company links within the renewable energy sector. To complement this site, we also feature www.FuelCellCarNews.com to meet the interest in fuel cell technology and the participating public and private companies. InvestorIdeas sites do not give specific recommendations, and encourage investors to complete due diligence.
Our current list of Renewable/Alternative Energy Stocks is available here: www.RenewableEnergyStocks.com/Companies/RenewableEnergy/Stock_List.asp
Our current list of Fuel Cell Stocks is available here:
www.FuelCellCarNews.com/Companies/FuelCellCarnews/Stock_List.asp
RenewableEnergyStocks.com Blog:
Read the latest news and views about the Renewable Energy Industry and Renewable Energy Stocks: http://RenewableEnergyStocks.blogspot.com/
InvestorIdeas.com's free "Investor Incite" Newsletter consists of company and industry updates, investment research and developing trends in key areas such as Homeland Security, Renewable Energy, Nanotechnology and more.
To sign up click here: www.InvestorIdeas.com/Resources/Newsletter.asp
Disclaimer: ECON Investor Relations Inc. is the owner of the domains www.RenewableEnergyStocks.com and www.FuelCellCarNews.com . Our site does not make recommendations, but offers a unique information portal to investors to research news, articles, and recent research. Nothing on our sites should be construed as an offer or solicitation to buy or sell any specific products or securities. All investments involve risk. Although we attempt to research thoroughly, we offer no guarantees as to the accuracy of any information presented. We encourage all investors to use our sites only as a resource to further their own research. All information relating to featured companies is sourced from public documents and/ or the company and is not the opinion of ECON or its related web sites. The site is currently compensated for by its "featured company." XSUNX Inc. (OTCBB: XSNX) Three thousand five hundred dollars per month and two thousand equivalent in one forty-four shares. www.InvestorIdeas.com/About/Disclaimer.asp
For more information contact:
Dawn Van Zant 800.665.0411
Ann-Marie Fleming 866.725.2554
Email: dvanzant@investorideas.com, or afleming@investorideas.com
Web Site: www.InvestorIdeas.com
Source: RenewableEnergyStocks.com
Featured Product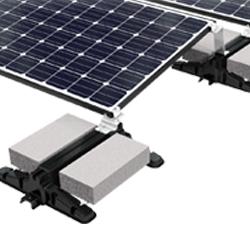 Preformed Line Products introduces the POWER MAX Ballasted Roof Mounting System. The POWER MAX solar mounting system is engineered to maximize energy output on commercial flat roofs. Developed with the professional installer in mind, this system offers adjustable inter-row spacing in the field of up to 11 inches. It features 50% fewer components and a simplified design resulting in faster assembly rates and labor savings on every project. Available in a flush mount, 5˚ or 10˚ tilt or higher density dual tilt design, the POWER MAX base arrives stacked on pallets providing easier transport to the roof. Engineered as a fully ballasted, non-penetrating system, it accepts standard concrete blocks and is qualified by wind tunnel testing.