High Cost of Energy, Rising Population, and Pollution Fuel Opportunities throughout China
www.China-AsiaStocks.com Reports - Renewable Energy and Water Industries Driven by Economic Growth and Energy Demand in China

High Cost of Energy, Rising Population, and Pollution Fuel Opportunities throughout China
POINT ROBERTS, WA, August 31, 2005 - www.China-AsiaStocks.com (CAS) an investor and industry news portal for the China-Asia sector reports on the growth opportunities in China, driving the need for renewable energy and water technologies. Industry experts William Brennan, Managing Director & Senior Portfolio Manager, Boenning & Scattergood; International Economist Dr. James Dorian, and Clint Wilder, Contributing Editor of Clean Edge Inc., evaluate China's expansion and the nation's challenges that have led to significant growth across energy and water related industries. Companies working to take advantage of China's surge include Kyocera Corp. (NYSE: KYO), and XSUNX, Inc. (OTCBB: XSNX) in the renewables arena, and WorldWater & Power Corp. (OTCBB: WWAT), focused on both water and renewable energy needs.
Report Excerpt: The China-Asia Boom -Turning Growing Pains into Worldwide Opportunity
By Ann-Marie Fleming, www.China-AsiaStocks.com, www.RenewableEnergyStocks.com, www.Water-Stocks.com
August 2005
China's emergence as a global and economic force has opened up immense opportunities across a variety of industries as its population and consumption rates continue to surge. Many argue that the key to China's growth stems from its demand for energy. With a GDP figure that has quadrupled in the last 20 years, energy consumption rates have nearly doubled according to Deloitte & Touche, China Services Group.
With the rising Chinese consumption rates, economic growth and ongoing challenges faced in the quest for increased resources, opportunities have arisen for many industries, in particular renewable energy and water. As the nation balances the needs of the country with protection of its environment, the Chinese government has had to make significant adjustments and with these adjustments come new growth opportunities for renewable energy and water technologies.
To Read the Full Report Click Here:
www.China-AsiaStocks.com/Companies/China-AsiaStocks/Articles/China_Growth.htm
The CAS website does not make recommendations, but offers a unique free information portal to research news, exclusive articles, interviews, investor conferences and a growing list of participating public companies in the China-Asia sector.
China-AsiaStocks.com offers investors research, news and links to public companies within the China-Asia sector. Click here for a partial list of companies doing business in China-Asia:
http://www.china-asiastocks.com/Companies/China-AsiaStocks/Stocks_List.asp
Disclaimer: Our site does not make recommendations, but offers a unique information portal to investors to research news, articles, and recent research. Nothing on our sites should be construed as an offer or solicitation to buy or sell any specific products or securities. All investments involve risk. Although we attempt to research thoroughly, we offer no guarantees as to the accuracy of any information presented. We encourage all investors to use our sites only as a resource to further their own research. All information relating to featured companies is sourced from public documents and/ or the company and is not the opinion of ECON or its related web sites. The site is currently compensated for by its "featured companies" - XSUNX Inc. (OTCBB: XSNX) Three thousand five hundred dollars per month and two thousand equivalent in one forty-four shares. Featured Company on RES current list of stocks www.InvestorIdeas.com/About/Disclaimer.asp
For more information contact:
Dawn Van Zant 800.665.0411
Ann-Marie Fleming 866.725.2554
Email: dvanzant@investorideas.com, or afleming@investorideas.com
Web Site: www.InvestorIdeas.com
Featured Product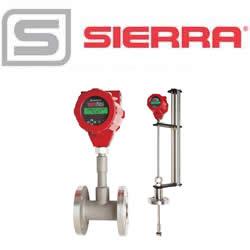 Sierra was the first to introduce a combination volumetric vortex and multivariable mass flow meter in 1997. Today, Sierra's completely redesigned InnovaMass® iSeries™ 240i/241i builds on two decades of success measuring five process variables for gas, liquid and steam with one connection. Now, with the latest hyper-fast microprocessors, robust software applications, field diagnostic and adjustment capability, and a new state-of-the-art flow calibration facility, Sierra's vortex iSeries delivers precision, performance, and application flexibility never before possible.