While the appeal is obvious, plug-in hybrids really have some immense drawbacks," says ABI Research Senior Analyst Dan Benjamin.
Oyster Bay, NY - August 30, 2005 - Though it would probably void the warranty, owners have been known to modify their hybrid vehicles to run longer solely on electric power and to charge their batteries from electric mains (thus the name, "plug-in hybrid"). If they recharge frequently enough, it is possible to use the gasoline engine in the vehicle only rarely, literally allowing for hundred of miles per gallon. So why aren't automakers offering this as a factory option?

"While the appeal is obvious, plug-in hybrids really have some immense drawbacks," says ABI Research Senior Analyst Dan Benjamin. "The major issue is battery life: rechargeable batteries tend to die much faster if they are constantly discharged until empty. Factory hybrid systems will use the conventional engine to charge the battery before it discharges too much, but plug-in hybrids are specifically intended to run longer on battery power, and will thus result in higher rates of battery failure."
Benjamin explains that when automakers experimented with pure electric vehicles, the batteries were intended to be replaced every few years. But to be cost-practical, batteries in hybrids are intended to last for the life of the vehicle. Replacements are very expensive, and automakers would not want to pay for this cost as part of a warranty.
So is the technology doomed to obscurity? Not necessarily, says Benjamin. "There will be something of a market for plug-ins on the commercial side, particularly in Europe and Asia where there is already more interest in pure electric vehicles. Eventually we could see the technology offered on a passenger vehicle, though not any time soon."
ABI Research offers dedicated research for both the commercial and consumer hybrid electric vehicle markets. Focusing on supply arrangements and technological approaches, "Hybrid Electric Vehicles" and "Commercial Hybrid Electric Vehicles" each provide regional forecasts broken down by key components through 2012.
Founded in 1990 and headquartered in New York, ABI Research maintains global operations supporting annual research programs, intelligence services and market reports in automotive, wireless, semiconductors, broadband, and energy. For information visit www.abiresearch.com, or call +1.516.624.2500.
Featured Product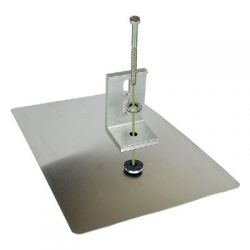 The GreenFasten™ - GF1 system utilizes the patented watertight technology EcoFasten Solar® is known for. The flashing is fit with our EPDM rubber bushing and when used with a compatible EcoFasten Solar compression bracket (milled with countersink), a watertight seal is created, which protects the integrity of the roof. Requiring just a single fastener (lag bolt or self-drilling), GreenFasten provides the fastest install in the industry and will not void roofing manufacturer's warranties. Backed by IAPMO certification, GreenFasten delivers a mounting solution for all new or existing (retrofit) composition shingle roofs, and is the most cost-effective solution available. Like all of the solar roof mount solutions in our line of products, GreenFasten is made in the USA using recycled materials.