According to a new report from market researchers, NanoMarkets LC, based here, developments in the marketplace will make 2006 the take off year for mobile fuel cells and 2010 NanoMarkets projects a market worth $1.6 billion ($ US) and $2.7 billion in 2012.
News Release:

September 15, 2005
For Immediate Release:
Mobile Fuel Cells Market to Reach $1.6 Billion by 2010, Says New Report
Glen Allen, Virginia: Fuel cells have long been touted as a long-lasting power supply for mobile devices but have proved to be a promise unfulfilled. However, according to a new report from market researchers, NanoMarkets LC, based here, developments in the marketplace will make 2006 the take off year for mobile fuel cells and 2010 NanoMarkets projects a market worth $1.6 billion ($ US) and $2.7 billion in 2012. Additional information about the report can be found at www.nanomarkets.net.
NanoMarkets' report identified four significant developments for why industry watchers should take the mobile fuel cells market seriously:
· Burgeoning Power Requirements. Absence of a power source that can supply power with many hours between charges is now the single biggest obstacle to the dream of ubiquitous computing and smart phones. Nokia has actually cancelled a smartphone product because its numerous features ran down the battery too fast. Meanwhile, Japan's mobile phone makers will add power-hungry digital broadcast tuners to their mobile phone models. Fuel cells are seen as a way to meet increasing demands.
· The new "complementarity". In the past, batteries and fuel cells have been seen as locked in a battle for the future of mobile computing and communications. Today, a new paradigm is emerging. Fuel cells will be introduced initially as portable rechargers for batteries or in hybrid fuel cell battery combos in which fuel cells provide long-lasting power and batteries deal with power spikes. Even in 2010, NanoMarkets claims that more than 80 percent of fuel cells will be used in conjunction with batteries.
· Big backers. With the fate of ubiquitous computing at stake, the heavyweights of the electronics and computing industry are backing fuel cells. IBM and Sanyo have announced plans to produce a direct methanol fuel cell for the IBM ThinkPad. Other big names who see opportunities in the budding mobile fuel cell market include 3M, Cabot, Casio, Fujitsu, Hitachi and Johnson Matthey, Motorola, NEC, Samsung, Sony and Toshiba.
· Advances in Technology. The emergence of more efficient DMFC fuel cells that operate at lower temperatures has made fuel cell technology much more viable for mobile applications. In the future nano-catalysts and new polymers and nanomaterials for membranes are likely to make for even better energy density in mobile fuel cells.
About the Report:
NanoMarkets report, "Micro Power Sources: Opportunities from Fuel Cells and Batteries for Mobile Applications" provides detailed analysis and forecasts of both fuel cells and batteries for mobile power applications broken out by technology, functionality and device type. DMFC, PEFC, SOFC and DNMFC fuel cells are covered for application in laptops, mobile phones, PDAs, portable consumer electronics, "mobile soldier" devices and mobile medicine. The report reviews the evolving strategies of companies in this market and pinpoints just when and where the main opportunities are for both mobile fuel cells and mobile batteries. Data for this report was collected from extensive interviews of leading companies throughout the entire value chain from materials providers, to fuel cell manufacturers to mobile device companies. Members of the press may request an executive summary of the report by emailing press@nanomarkets.net.
About NanoMarkets:
NanoMarkets analyzes the market opportunities and disruptions brought about by advances in technology at the micro and nano scale. Through our reports, white papers and customized client engagements, we provide our clients with insightful analyses of both the commercial and technology related issues that will determine where and how their business opportunities will emerge or be impacted.
Contact:
Robert Nolan
info@nanomarkets.net
(804) 360-2967
Featured Product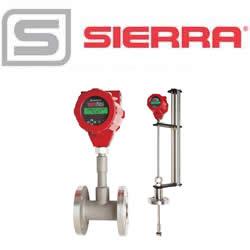 Sierra was the first to introduce a combination volumetric vortex and multivariable mass flow meter in 1997. Today, Sierra's completely redesigned InnovaMass® iSeriesā"¢ 240i/241i builds on two decades of success measuring five process variables for gas, liquid and steam with one connection. Now, with the latest hyper-fast microprocessors, robust software applications, field diagnostic and adjustment capability, and a new state-of-the-art flow calibration facility, Sierra's vortex iSeries delivers precision, performance, and application flexibility never before possible.