GridPoint's Intelligent Renewable Energy Management Appliance Will Compete for Most Innovative Commercial Technology of The Year
WASHINGTON − Oct. 11, 2005 − GridPoint, Inc.', a provider of intelligent energy management (IEM) appliances, today announced its renewable energy product, GridPoint Connect', has been selected as a finalist for Most Innovative Commercial Technology of the Year in the Platts 2005 Global Energy Awards. GridPoint will compete against five companies, including ExxonMobil and Shell Global Solutions. A division of The McGraw-Hill Companies (NYSE: MHP), Platts is the world leader in providing energy information.

Made especially for renewable energy customers, GridPoint Connect' is a grid-tied battery backup product that integrates and converts energy from solar panels into electricity that can be used immediately by the customer or stored within the product for future use. The product can also determine the amount of energy used from solar panels versus the utility company as well as peak usage throughout the day. In addition to providing backup power during outages, GridPoint Connect enables users to sell excess energy back to the utility.
Platts 2005 Global Energy Award winners are chosen by an international panel of judges composed of the energy industry's elite, including top corporate executives, leading academics, respected commentators, senior analysts and knowledgeable editors, who will evaluate each entry within its category and also within the context of the industry as a whole.
Unlike any other residential energy technology, GridPoint products uniquely incorporate advanced software coupled with communication technologies and network controls that allow the appliance to automatically execute intelligent decisions to improve power reliability and management. Additionally, every product is monitored by GridPoint's network operations center to ensure maximum efficiency and early detection of maintenance needs.
"Platts is a leader in energy analysis so we're very honored to be selected as a finalist for this award," said Peter L. Corsell, President and CEO of GridPoint. "We'll work to continue to bring the most innovative energy technologies to market in ways that will benefit both consumers and utilities."
GridPoint products are the type of advanced metering and communications technology the new federal energy law encourages; home and business owners who purchase GridPoint Connect can take advantage of tax credits allowed for commercial and private solar-related equipment. The single cabinet, "plug-and-play" appliances are easy to install, and GridPoint handles all service and support after installation and provides a comprehensive warranty.
Platts 2005 Global Energy Award winners will be announced at a gala celebration on Dec. 1 at the Roosevelt Hotel in New York City. For information, visit www.globalenergyawards.com.
About GridPoint
GridPoint builds intelligent energy management (IEM) products to reduce electricity costs, improve power reliability and itemize energy consumption for the home and business. GridPoint IEM appliances provide traditional and renewable energy users with instant, automatic backup power based on clean, high-capacity, battery-based technology. GridPoint products also offer the renewable energy user a superior way to integrate alternative energy sources. GridPoint's single cabinet, "plug-and-play" appliances are easy to install and sold through a network of premium home builders, utilities, retail chains and government entities as well as installers and contractors of electrical, heating, air-conditioning, home automation and renewable energy systems. On the Net: www.gridpoint.com
Featured Product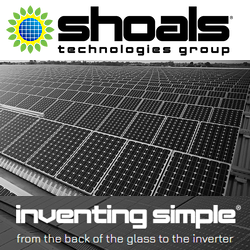 Inventing Simple® isn't just a slogan to us, it's a way of life. Using simple plug-and-play ideology, we revolutionized solar installations in 2003 with our Interconnect System™. Our harnessing system is now the gold standard EPC's use around the world. By using simple ideas, we are making solar energy a more affordable and clean power source for future generations.