These lights, using LED lamps powered by solar energy, illuminate a pathway from the College's residence hall area and its well-known "globe" to its athletic fields.
Framingham, MA. October 11, 2005. SolarOne® Solutions, LLC announced today that the company has completed the first installation of its SoLed' lights using its patent-pending mc2 control technology at Babson College in Wellesley, Massachusetts. These lights, using LED lamps powered by solar energy, illuminate a pathway from the College's residence hall area and its well-known "globe" to its athletic fields. "Trenching was costly and would have been extremely disruptive in an area extensively used by the students and day campers" said Babson's AVP of Facilities Management and Planning, Shelley Kaplan. "The solar lights also reflect the campus's burgeoning interest in sustainable energy practices and advanced technologies". The light fixtures were designed to match the appearance of Babson's existing pendant lighting used throughout the rest of campus.

The systems come with advanced features to give users extensive control to fine tune operation and match energy consumption to the available solar resource. Features include the ability to select from ten pre-set energy-conserving profiles, to adjust light levels and timing segments, and to choose modes to extend system run-times. The systems have been outfitted with SolarOne motion detectors that raise the light to peak levels at any time there is motion during off-peak periods. "The Babson installation represents the first of a number of landmark installations using our new technology including a major national lab and a major North American transit authority", said Moneer Azzam, President of SolarOne. "Using the solar-LED combination for lighting to 'see by' as compared with lighting to 'look at' is a major step forward for the technology. SolarOne is clearly at the forefront of this development", adds Azzam.
SoLed' lights operate independent of the electric grid, relying on a solar panel for their power source. This ensures that they will remain lit, even during grid-connected power shortages. Additionally, their independent power source enables them to be sited flexibly and installed easily, without incurring the significant expenses of trenching and repaving. SolarOne Solutions offers SoLed' overhead lights for pathways, sidewalks, parking lots, and bus shelters. SolarOne Solutions also offers the Harvester' packaged mobile solar micro-utility for rapid deployment of electric power, lighting and water purification. The company is supported in part by the SEED program from the Massachusetts Technology Collaborative. Solarone® is a registered trademark of SolarOne Solutions, LLC. For further information on SolarOne Solutions LLC visit www.solarone.net, e-mail at info@solarone.net or call Toll Free 877-527-6461.
Babson College in Wellesley, Mass., is recognized internationally as a leader in entrepreneurial management education. Babson grants BS degrees through its innovative undergraduate program, and grants MBA and custom MS and MBA degrees through the F.W. Olin Graduate School of Business at Babson College. Babson Executive Education offers executive development programs to experienced managers worldwide. For information, visit www.babson.edu.
Featured Product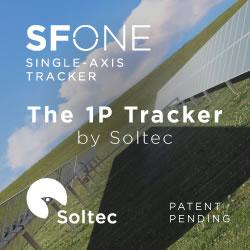 Soltec manufactures and supplies solar trackers designed and proven for extreme climate conditions, which is an ideal solution for any region's environment. Soltec's trackers are self-powered, requiring no additional PV module or grid-powered connection. Bifacial modules collect energy on both the front and rear sides, capturing reflected irradiance from the ground surface under and around the tracker and from other modules. Depending on site conditions, bifacial yield-gain can reach +30 percent.