The "Global Blueprint for Energy Efficiency in Buildings - Leveraging Best Practices for Mexico" is the second in a series of workshops aimed at advancing energy-efficiency in the buildings sector worldwide.
The November 3rd workshop in Mexico City, is a unique one-day event that will examine how local and voluntary programs, international code compliance and overseas investment best practices can be translated to cost-effectively advance energy-efficiency policies and practices in Mexico's building sector.

The workshop is hosted by the Alliance to Save Energy and the Asociación de Empresas para el Ahorro de la Energía en la Edificación (AEAEE), in partnership with the Renewable Energy and Energy Efficiency Program (REEEP).
It brings together an elite roster of 50 expert policymakers, business representatives, and academicians from Mexico, Canada, Europe, and the U.S. to lead the way for future green buildings in this hemisphere, and create a core network of building sector stakeholders from around the world.
The government of Mexico's recent support of REEEP as an official funding member and country supporter indicates a clear objective to accelerate global market growth through the development and adoption of renewable energy and energy efficiency financing and regulatory practices.
This workshop will further the objective by assessing the status of energy efficiency in Mexico and disseminating information that could prompt the region to undertake new energy-efficient building practices. Mexico currently has only modest commercial building energy efficiency codes and none for residential construction.
Consequently, the opportunities for saving energy through new building code adoption in Mexico alone is huge, and the benefits to the general public, environment, and economy significant.
"Building energy efficiency is important not only because it saves consumers money and protects our environment, but also as a critical component of energy security and improved public health," said AEAEE Director Jenny Tardan. "This workshop provides a forum for Mexico to explore policy, program, and social issues which support energy efficiency in the building sector and implement 'best practices' that will enable us to move forward as a leader in energy efficiency."
"The 'Global Blueprint' workshop will not only provide an opportunity for Mexico to improve its commitment to energy efficiency, but will also demonstrate to all non-Annex 1 countries how even minimum efficiency standards for buildings can generate business opportunity," said Alliance President Kateri Callahan. "The replicable structure of this workshop will help to catalyze discussion of the social, economic, environmental and political benefits of energy efficiency worldwide, resulting in the implementation of energy efficient policies and programs in the regions where they are needed most."
Featured Product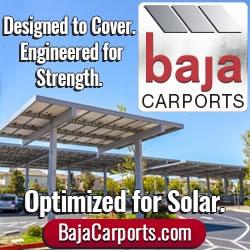 Baja Carports offers an extensive solar support system product line customized to customers' site specifications by in-house engineers, meeting their parking lot coverage, plus optimal PV production needs. Baja's Full Cantilever Tee is often paired with its Semi and Full Cantilever carports to meet live/loads up to 60psf and wind speeds to 160mph. All Baja products are pre-fabricated, bolted connections, pre-galvanized structural steel for fast on-site installation and project aesthetic requirements."