Leading Solar Silicon Supplier Joins EverQ Venture
Marlboro, Massachusetts, and Thalheim, Saxony-Anhalt, Germany, November 28, 2005 - Evergreen Solar, Inc. (Nasdaq: ESLR), a manufacturer of solar power products with its proprietary, low-cost String RibbonTM wafer technology, and Q-Cells AG, the world's largest independent manufacturer of crystalline silicon solar cells, today announced a partnership with Renewable Energy Corporation ASA (REC), based in Høvik, Norway. The world's largest manufacturer of solar-grade silicon and multicrystalline wafers, REC is joining EverQ, a strategic partnership between Evergreen Solar and Q-Cells that is currently building a 30-megawatt solar wafer, cell and module manufacturing plant in Thalheim, Germany.

In conjunction with becoming a stakeholder in EverQ, REC has agreed to the long-term supply of solar-grade silicon to Evergreen Solar and EverQ. Under terms of the seven-year agreement, REC will initially supply Evergreen Solar with 60 metric tons and EverQ with 190 metric tons of solar-grade silicon annually. Additionally, REC will license to EverQ certain of its proprietary manufacturing technology. In exchange, REC will acquire a 15% ownership position in EverQ on a cost-of-capital basis. Following REC's initial investment, Evergreen Solar will own 64% of EverQ, Q-Cells 21% and REC 15%. The agreements contemplate that when REC establishes planned additional facilities for the production of silicon, it will offer to EverQ a second long-term supply agreement that would substantially increase REC's supply of silicon to EverQ. Should REC offer this second supply agreement, REC will be entitled to increase its ownership stake in EverQ to as much as one-third. The amended master agreement contemplates that Q-Cells will also be able to increase its ownership stake to one-third of EverQ.
"The addition of REC to the EverQ partnership is a landmark event for our joint venture and the entire solar industry," said Richard M. Feldt, President and Chief Executive Officer of Evergreen Solar. "At a time of potential silicon shortages and extremely high prices, EverQ now has an increased supply of silicon to facilitate rapid growth. Uniting REC's newly developed granular silicon with distinctive technologies from our three companies has the potential to dramatically reduce the overall cost of producing solar products and set a new worldwide standard for solar power."
Erik Thorsen, President and CEO of REC, stated, "Over the past three years, REC has made significant investments to develop a new process for making granular silicon for the PV industry. This product is an exceptionally good fit for the String Ribbon wafer manufacturing process. Because of global supply constraints, we expect the value of solar-grade silicon to remain at high levels for the next several years. We view EverQ, with Evergreen's wafer technology and Q-Cells' cell manufacturing capabilities, as an opportunity for REC to strategically leverage its future silicon expansion plans."
Anton Milner, CEO and a founder of Q-Cells, said, "REC's decision to join EverQ further validates the unique advantages that have been created by combining Evergreen Solar's String Ribbon technology with Q-Cells' high-performance solar cell manufacturing capabilities. Adding REC, a world-class silicon supplier, to the partnership will assist us in developing EverQ more rapidly and cost effectively into a world-leading supplier to the global solar marketplace. We believe EverQ's Thalheim facility will establish an ideal prototype that EverQ can replicate in emerging solar markets around the world."
The 30-megawatt Thalheim facility is currently under construction and is scheduled to commence full-scale operations by the summer of 2006. The German government is providing EverQ with grants totaling approximately $34 million at current exchange rates to offset manufacturing facility construction costs, which are currently anticipated to be $75 million. The plant is expected to create between 350 and 400 new jobs in the Saxony-Anhalt region. Based on the initial success of the facility, EverQ will then evaluate the possibility of expanding the facility from 30 megawatts up to 120 megawatts of capacity.
About Renewable Energy Corporation
Renewable Energy Corporation ASA (REC) was established in 1996 and has, over a relatively short period, become one of the world's leading solar companies. Today, REC is the world's largest producer of polysilicon and wafers for PV applications. REC is involved in all steps of the value chain, from production of solar grade silicon to wafer, cell and module production. The company has customers all over the globe, seven production plants in three different countries, operates on three different continents and has approximately 1,100 employees. For further information on the company, please refer to www.recgroup.com
About Q-Cells AG
Established in 1999, Q-Cells is one of the world's largest solar cell manufacturers in terms of production output and is the largest group-independent manufacturer of crystalline silicon cells in the world. Its core business is the development, production and marketing of high-quality mono- and multicrystalline photovoltaic cells.
Since commencing production in 2001, Q-Cells has grown rapidly and now employs more than 700 people at its site in Thalheim, Saxony-Anhalt. Q-Cells has constantly developed its product portfolio and the performance of its cells as well as its technological production processes. Furthermore, Q-Cells is developing additional important technologies through partnerships for the commercialization of these technologies.
About Evergreen Solar, Inc.
Evergreen Solar, Inc. (Nasdaq: ESLR) develops, manufactures and markets solar power products using the Company's proprietary low-cost manufacturing technologies. The products provide reliable and environmentally clean electric power in global markets. Solar power applications include complete power systems for electric utility customers choosing to generate their own environmentally benign power, as well as wireless power for remote homes, water pumping, lighting and rural electrification. For more information, visit www.evergreensolar.com.
Evergreen Solar® is a registered trademark and String Ribbon(tm) is a trademark of Evergreen Solar, Inc.
Featured Product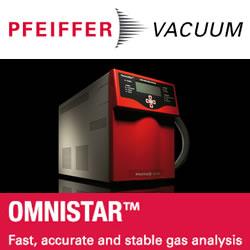 The Pfeiffer Vacuum OmniStar benchtop analysis system offers you a compact footprint, powerful software and Ethernet connectivity. It's the optimum solution for many real-time gas analysis applications. With the OmniStar, Pfeiffer Vacuum offers you a complete solution for gas analysis, in chemical processes, semiconductor industry, metallurgy, fermentation, catalysis, laser technology and environmental analysis. The turnkey OmniStar gas analysis system consists of heated, temperature-regulated gas inlet system, Quadrupole mass spectrometer, a dry diaphragm vacuum pump and HiPace turbopump. Unlike competing methods such as FTIR, OmniStar is suitable for qualitative and quantitative analysis of most gases.