Rajasthan-based SRIPHL is targeting to cultivate 1,00,000 hectares of jatropha all over India in the next few years making India World leader in production of jatropha biodiesel.
In India 16 percent of the world's population is struggling to survive on only 2.4 percent of the planets land mass. The pressure of this intense land utilisation is causing more and more forests and agricultural land to deteriorate into useless wasteland. In 2000, India's Ministry of Land Use classified nearly 63 million hectares of the subcontinent —about one fifth of its entire territory — as wasteland out of which 33 million hectares of wasteland have been allotted for tree plantation. According to the Indian government, 174 million hectares — more than one half of the country's territory — are suffering to a greater Or lesser extent from land degradation. But this process of deterioration is not the result of a law of nature. But the icious circle of erosion, soil deterioration and poverty can be broken by jatropha cultivation as this technology has a huge potential for replication nation-wide, improving the livelihood of many more.

Can fuel be "cultivated"?
India has the potential to be a leading world producer of diesel, but the rural farmers still need to get comfortable with the idea that diesel fuel can be "harvested," but they understand one thing very clearly that they can use jatropha plants as a source of extra earnings. Farmers need to know that there is going to be a good market for what they produce. SRIPHL is very keen to build that confidence and promote jatropha cultivation by assisting planting, buying the seeds for refining and providing the refining technology to enable growers to make their own biodiesel."
In this context The SRPHL a non-profit non-government organization, working in the field of rural developments and is the leading promoter of jatropha and providing production technology for the biofuel crop has established Center For Jatropha Promotion & Biodiesel(C J P ): with an aim to use the fruit of the jatropha bush to produce biodiesel and thus offer local farmers a new source of income
The centre says: "Jatropha is a valuable multi-purpose crop to alleviate soil degradation, desertification and deforestation, which can be used for bio-energy to replace petro-diesel, for soap production and climatic protection, and hence deserves specific attention
"Jatropha can help to increase rural incomes, self-sustainability and alleviate poverty for women, elderly, children and men, tribal communities and small farmers. It can as well help to increase income from plantations and agro-industries."
India is aiming to become a world leader in producing bio-diesel from Jatropha curcas.
The centre notes that Jatropha curcas produces seeds with an oil content of 37 percent that can be combusted as fuel without being refined while by-products such as the press cake are good organic fertilizer and oil also contains an insecticide.
The Centre Support, assist, represent, advise, negotiate, manage and train participating farmers in all matters, to successfully plant and harvest Jatropha Curcas for the production of bio fuel "Diesel" and affiliated products in India and World wide. The center provides technology and support for the propagation of seeds and seedlings, evaluation of tissue culture and soil evaluation through to plantation and harvesting
SAFE AND SMALL INVESTMENT
The CEO Mr. A. Maharshi says "We are not in favor of the implementation of a high-tech agrarian concept that warrants for maximum input and delivers bumper crops. Contrary, we are looking for a practicable type of cultivation that is compatible with the routines and possibilities of local farmers, so that the jatropha plantations can be profitable for the rural cultivators with a minimum input of men, money and materials".
The SRIPHL experts working on the jatropha plantation have developed the best method of cultivating these plants, one, which requires the lowest possible investment of money, labor and materials.
By cultivating these energy-producing plants, processing them and finally producing biodiesel, C J P is creating new sources of income for the rural farmers
Looking towards the interest and awareness grown out through out the country SRIPHL is confident of achieving its mission "To Cultivate 100 000 hectares of land within INDIA to produce up to 1 Million metric tons of Oil"
Bio-Diesel" from Jatropha has the ability to lift many people from poverty to financial independence, from despair to respect and unemployment to business owners
The use of pure plant oil has benefits for farmers and their communities, people living in cities, companies involved in transport, and the environment
Featured Product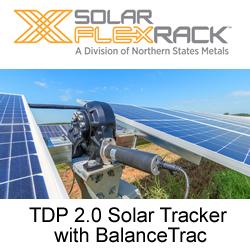 Solar FlexRack's latest solar tracker technology bundles an advanced tracker design with a full team of seasoned engineering and installation experts at your service. The next-generation solar tracker delivers a package of features that both enable increased energy yields for commercial and utility-scale solar installations, and significantly reduce project risks. That translates to smart installation cost-savings across your project budget.