Xantrex Technology Inc. inverters have been chosen by solar energy company Generacion de Energias Alternativa for a 360 kilowatt (kW) ground solar array installation in Spain. Xantrex is a premier supplier of inverters that is active in the Spanish solar market, with more than 10 MW sold in Spain.
BARCELONA, SPAIN, January 9, 2006 - Xantrex Technology Inc. (TSX:XTX) inverters have been chosen by solar energy company Generacion de Energias Alternativa for a 360 kilowatt (kW) ground solar array installation in sunny Crevillente, Alicante, Spain. Xantrex is a premier supplier of inverters that is active in the Spanish solar market, with more than 10 MW sold in Spain.

This photovoltaic (PV) plant uses modules from the leading Spanish manufacturer Siliken. Siliken cooperated with Generación de Energias Alternativas in the project plan and design of this installation. It includes three Xantrex GT100E solar grid tie inverters and additional Xantrex products and accessories.
Solar power is an attractive investment in Spain, as the Spanish feed-in tariff is 0.42 cents (Euro)/kWp, which is significantly higher than the price of electricity from conventional sources, so the expected payback period for this installation is less than 10 years.
"Xantrex is excited to be part of the growing solar market in Spain," said Jim Harre, Xantrex Director of Sales for Europe. "Our GT Series inverters are becoming a leading choice for large-scale solar installations in Europe, and this installation demonstrates the versatility of the Xantrex GT Series. This product line includes the 100 kilowatt (kW) Xantrex GT100E and the 500 kW Xantrex GT500E for the industrial market, as well as our new range of high quality grid tie inverters for residential and commercial installations."
Xantrex inverters efficiently convert direct current (DC) power from solar panels into high-quality alternating current (AC) electricity for sale to the electric grid. The GT100E inverter is a 100 kW three-phase power conversion system for grid-connected PV arrays. It is expandable and easy to operate, with competitively higher energy production at lower power levels. The unit's thermal design allows it to operate at up to 45 degrees Celsius without de-rating. The GT100E incorporates advanced Maximum Power Point Tracking (MPPT) Technology to maximize the energy harvested from a PV array. The GT100E inverter has a Euro efficiency rating of 94.7%. It meets all CE requirements, is approved by the TUV Rhineland, and fulfills the Spanish Royal Decree 1663/2000.
Xantrex uses a disciplined approach to design its solar grid tie inverters for long life and reliability. Highly Accelerated Life Test (HALT) methods expose the components to extreme thermal and mechanical conditions that go beyond conventional testing methods typically used by other inverter manufacturers. The result is rugged, top-quality products that are built to withstand all types of environments.
Xantrex has a local service network in Spain, with commissioning support, product training, a help hotline, and maintenance service. Xantrex also offers warranty extensions and performance warranties of up to 25 years for these industrial grid tie inverters.
Xantrex has proven solar and wind experience, with more than 3,000 MW installed worldwide and 100 MW sold in Spain. With the recent addition of the new solar grid tie inverters for the European residential and commercial market, Xantrex expects its products will be the choice for an increasing number of renewable energy customers in Europe.
About Generacion de Energias Alternativa
Generación de Energias Alternativas S.L is a renewable company, formed by a group of companies. The main investor is Cooperativa Electrica de San Francisco de Asis de Crevillent, an electrical distributor in Spain. It focuses on large PV installations close to Crevillente, Alicante. Generación de Energias Alternativas invests in renewable energy projects focusing on environmental responsibility in the Spanish territory, and this installation aligns with the company's mandate.
About Xantrex
Xantrex Technology Inc. (www.xantrex.com) is a world leader in the development, manufacturing and marketing of advanced power electronic products and systems for the distributed, mobile and programmable power markets. The company's products convert raw electrical power from any central, distributed, or backup power source into high-quality power required by electronic and electrical equipment. Headquartered in Vancouver, British Columbia, the company has facilities in Arlington, Washington; Livermore, California; Elkhart, Indiana; and Barcelona, Spain. Xantrex is publicly listed on the Toronto Stock Exchange under the ticker symbol "XTX".
Note that this news release contains forward-looking statements related to Xantrex Technology Inc. Such statements reflect the current views of Xantrex with respect to future events and are subject to risks and uncertainties that could cause actual results to differ materially from those contemplated in these forward-looking statements.
Media Contact:
Raquel Espada
011-34-93-556-0972
Raquel.espada@xantrex.com
Featured Product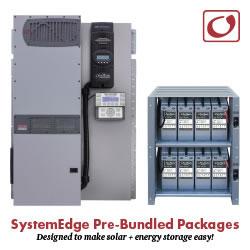 Each pre-bundled package is designed to make solar plus energy storage easy. By combining OutBack's most popular FLEXpower pre-wired systems with matched OutBack energy storage, SystemEdge takes the guesswork out of installing solar plus storage. Every SystemEdge package includes a FLEXpower factory pre-wired system, application-specific EnergyCell batteries and racking, FLEXware ICS Plus combiner and all the necessary connection hardware.