RenewableEnergyStocks.com - Corporate Spending Shifts Towards Clean Energy and Energy Efficiency Strategies
RenewableEnergyStocks.com - Corporate Spending Shifts Towards Clean Energy and Energy Efficiency Strategies
Reducing Dependency on Foreign Oil, Current Energy costs, and Tax Incentives Drive Adoption of Renewables and Energy Efficiency Products
POINT ROBERTS, Wash., February 2nd, 2006 - www.RenewableEnergyStocks.com (RES) an investor and industry news portal for the renewable energy sector discusses the growing trend of "Corporate Spending on Green Energy". Reduced dependency on foreign oil, lower energy costs and improved efficiency is driving corporations such as Wal-Mart and Whole Foods Market® as well as federal agencies towards the implementation of clean energy policies and technology. Technology providers such as Honeywell International, XsunX and Smartcool Systems anticipate this movement to continue.
Wal-Mart (NYSE: WMT) has made a commitment towards 'green' solutions identifying three key goals in a corporate presentation; to be supplied 100 percent by renewable energy, to create zero waste, and to sell products that sustain our resources and environment. Whole Foods Market® (Nasdaq: WFMI), the world's leading natural and organic foods supermarket, made history this month with its purchase of renewable energy credits that completely offset the Company's total electricity use.
Helping to facilitate the process are companies like Honeywell International (NYSE: HON), who continue to contribute to this movement. According to Steve Craig, Honeywell's Director, Federal Business Unit, National Energy Solutions, "Organizationally, we are staffed with trusted energy experts with a wide range of technology experience as well as having the engineering, design, and project management experience to create and implement comprehensive integrated energy solutions. Financially, Honeywell is investing every day in people and assets to continue our goal of being a leader in turn-key energy conservation programs."
Helping corporations and federal agencies pursue the 'green' path are innovative technologies that provide opportunities for energy savings, independence and an overall protection of the environment. "An innovative new way to accomplish this is through the use of Building Integrated Photovoltaics or ("BIPV") which allow photovoltaic material, in the form of photoelectric panels, to be incorporated into the design of building materials," explains Mr. Tom Djokovich, CEO of XsunX Inc. (OTCBB: XSNX), a BIPV developer.
Green strategies are being supported by a variety of incentives, from tax credits to corporate image, to overall improvement of the bottom line. George Burnes, CEO of SmartCool Systems (TSX.V:SSC; OTC.PK:SSCFF), a marketer of advanced energy saving technologies describes, "As this trend continues and more pressure is placed by governments, the financial industry, consumers and shareholders of large corporations, new technology will become a driving focus by energy managers to implement in their reduction strategies."
Corporate Spending on Green Energy
The incorporation of energy savings systems, environmentally friendly processes and renewable energy technology has found its way into many business models for corporations and government agencies.
Companies, agencies and ultimately consumers are looking for alternatives as a means of offsetting the high costs of traditional energy and rising demand. An extension of this is the country's quest for reducing the dependence on foreign sources of oil as a matter of national security. "Due to a combination of rising power costs, and in many regions insufficient access to even enough power, the international business community is adopting the use of renewable energy technologies to reduce operating costs, gain competitive advantages, and improve customer perception and retention," explains Tom Djokovich, CEO of XsunX Inc.
To Read the Overview in Full Click Here: http://www.RenewableEnergyStocks.com/Articles/Corp_Spending.asp
Featured Company: (RES is compensated by XSNX and SSC as disclosed in disclaimer below.)
XsunX, Inc (OTCBB: XSNX) is the developer of Power Glass' - an innovative thin film solar technology that allows glass windows to produce electricity from the power of the sun. This proprietary process is intended to allow manufacturers to apply a transparent and photovoltaic glazing to glass and other transparent substrates. When XsunX glazing is exposed to light, the light energy is converted into electrical energy for use as a power source. XsunX believes that its solar electric glazing technology has a number of major market opportunities in the worldwide architectural glass, optical film and plastics markets.
For more information on XsunX, click here: http://www.renewableenergystocks.com/CO/XSNX/Default.asp
SmartCool Systems, Inc. (OTC.PK: SSCFF; TSX VENTURE: SSC), a marketer of advanced energy saving technologies which reduce the electricity consumption (Kwh) and maximum demand (Kw/KVA) of refrigeration and air conditioning compressors. As a distributor of the Abbotly System 4000 Energy Savings Module (ESM)®; a system of micro-computer digital optimization modules which work with existing compressor equipment and controls, SmartCool enables businesses to reduce the electricity usage of refrigeration and air conditioning compressors by 10% to 20% while maintaining temperature performance.
For more information on SmartCool, click here: www.renewableenergystocks.com/CO/SSC/Default.asp
www.RenewableEnergyStocks.com, a portal within the InvestorIdeas.com content umbrella, offers investors research, news and links to public companies within the renewable energy sector.
Our Current List of Renewable Energy Stocks: http://www.renewableenergystocks.com/Companies/RenewableEnergy/Stock_List.asp
Additional Industry Content:
RenewableEnergyStocks.com Blog:
Read the latest news and views about the Renewable Energy Industry and Renewable Energy Stocks: http://RenewableEnergyStocks.blogspot.com/
Investor Incite Newsletter
InvestorIdeas.com's free "Investor Incite" Newsletter consists of company and industry updates, investment research and developing trends in key areas such as Homeland Security, Renewable Energy, Gaming and more.
TO SIGN UP, click here: www.InvestorIdeas.com/Resources/Newsletter.asp
Investorideas.com Disclaimer: www.InvestorIdeas.com/About/Disclaimer.asp Our sites do not make recommendations, but offer information portals to research news, articles, stock lists and recent research. Nothing on our sites should be construed as an offer or solicitation to buy or sell products or securities. We attempt to research thoroughly, but we offer no guarantees as to the accuracy of information presented. All Information relating to featured companies is sourced from public documents and/ or the company and is not the opinion of our web sites. These sites are currently compensated for by its "featured companies." SmartCool Systems Inc. (OTC.PK: SSCFF; TSX.V:SSC) three thousand dollars per month, plus 100,000 stock options. XSUNX Inc. (OTCBB: XSNX) Three thousand five hundred dollars per month and two thousand equivalent in one forty-four shares.
For more information contact:
Dawn Van Zant 800.665.0411
Ann-Marie Fleming 866.725.2554
Email: dvanzant@investorideas.com, or afleming@investorideas.com
Web Site: www.InvestorIdeas.com
Source: RenewableEnergyStocks.com; XsunX, Inc.; SmartCool Systems, Honeywell International, Wal-Mart
Featured Product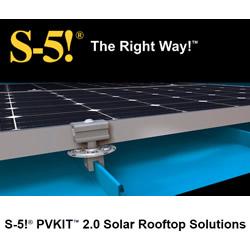 The concept of combining PV arrays with standing seam metal roofing is growing-for good reasons. Metal roofs have a life expectancy of more than 40 years. Shouldn't the mounting system last as long? With S-5! zero-penetration attachment technology and PVKIT 2.0, the solarized metal roof is the most sustainable system available -and without compromising roof warranties! PVKIT 2.0 is the also the best solution for attaching PV modules directly to any exposed fastener metal roof.