ULSTER PARK, NEW YORK- Solar Energy International (SEI) is coming to Ulster Park, NY to teach a series of Solar Electric Workshops- Photovoltaic (PV) Design / Installation and Advanced PV. Join us in these workshops, acquire hands-on skills and gain practical knowledge.
April 10th - 14th, Photovoltaic Design & Installation. Learn how to use photovoltaic (PV) technology to produce your own electricity from the sun. This hands-on workshop is for the novice who wants to use PV and for those seeking employment in the PV industry. Co-sponsored by Sun Mountain Solar.

April 17th - 21st, Advanced Photovoltaics. Take an in-depth look at design criteria, maintenance issues and troubleshooting of a code compliant PV system. This class is especially useful for people who currently work in, or plan to be employed in, the PV industry. Co-sponsored by Sun Mountain Solar
*********************************************************************
Solar Energy International is a nonprofit organization that has been providing training programs in renewable energy around the world since 1981.
SEI's mission is to help people incorporate renewable energy into their lives. Based in Carbondale, Colorado, and actively teaching around the world, SEI provides information, education and hands-on training to people who want to shape a sustainable future.
Please visit www.solarenergy.org for additional information and contact SEI at
970.963.8855 for workshop details or to register.
Featured Product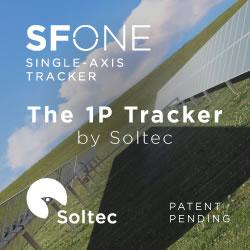 Under the slogan "engineered for greatness", the SF8 tracker aims to revolutionize the photovoltaic market with its new minimum 2x60 configuration and 4 to 6-strings. This tracker is elegantly designed while it reinforces its structure to perform in any terrain. In addition, the SF8 tracker increases the rigidity of its structure by 22% more than the previous generation of Soltec trackers, the SF7. The SF8 is specially designed for larger 72 and 78 cell modules, an increasing market trend.