Ultracapacitors Provide High-Reliability, Low-Maintenance Alternative to Batteries For Energy Storage and Power Delivery In Wind Turbine Blade Pitch Systems
NEWS RELEASE

For Immediate Release
February 1, 2006
SAN DIEGO, Calif. - Maxwell Technologies Inc. (Nasdaq: MXWL) announced today that Enercon GmbH, one of the world's leading producers of wind energy systems, has designated Maxwell as a preferred supplier, and has placed a 1.5 million-unit purchase order for ultracapacitors for wind turbine blade pitch systems.
Alain Riedo, vice president and general manager of Maxwell's Swiss subsidiary, Maxwell Technologies SA, said that Enercon currently uses BOOSTCAP® ultracapacitors for backup energy storage and power delivery in wind turbines models ranging in output from 300 kW to 6 MW.
"In addition to being one of the world's largest wind turbine producers, Enercon is recognized as a leading innovator in the design and manufacture of megawatt class turbines," Riedo said. "To optimize energy output and enhance system reliability and longevity, each of Enercon's turbines' three blades has an independent braking and pitch adjustment mechanism with backup power to ensure continuous operation in the event of a power failure. Each turbine incorporates from 200 to 700 BOOSTCAP ultracapacitors for backup power."
Ulrich Neundlinger, Enercon's managing director of switching units, said that the company is expanding its use of ultracapacitors for blade pitch system backup power after initial deployments confirmed their significant advantages over traditional battery solutions.
"Ultracapacitors enabled us to overcome a number of battery-related design challenges, including poor low temperature performance and limited operational life," Neundlinger said. "Maxwell's products emerged as the clear choice for this application on the basis of their robust construction, long operating life and cost-effectiveness. Wind turbine operators need low-maintenance systems that operate reliably for many years, and BOOSTCAP products have proven that they can help us to continue to meet our customers' expectations."
Industry sources place the current annual value of the global wind energy market at more than $9 billion, and reported that more than 8,000 MW of new wind generator capacity was installed in 2004, bringing the total worldwide installed base to approximately 48,000 MW. From 2000 through 2004, the industry maintained an annual growth rate of nearly 16 percent, and it is projected to continue to meet or exceed that rate through 2009. Riedo noted that new offshore installations are expected to account for an increasing share of new capacity, and said that ultracapacitors' high reliability and long operating lifetime make them particularly attractive for offshore and other remote locations that are costly and difficult to service.
Enercon is a private company headquartered in Aurich, Germany, with additional production facilities in Magdeburg, Germany, and in Sweden, Brazil, India and Turkey. Founded 1984, Enercon is recognized throughout the wind energy industry for its pioneering research and development. In 1991, the company developed the world's first gearless wind energy system, and by 1993, began large-scale manufacturing of gearless wind turbines that set new standards for energy output, reliability and service life. To ensure industry-leading technology, quality and safety, Enercon develops and produces all key components, including rotors, ring generators and the grid feeding systems, internally. For more information, please visit www.enercon.de.
Maxwell is a leading developer and manufacturer of innovative, cost-effective energy storage and power delivery solutions. Our BOOSTCAP® ultracapacitor cells and multi-cell modules and POWERCACHE® backup power systems provide safe and reliable power solutions for applications in consumer and industrial electronics, transportation and telecommunications. Our CONDIS® high-voltage grading and coupling capacitors help to ensure the safety and reliability of electric utility infrastructure and other applications involving transport, distribution and measurement of high-voltage electrical energy. Our radiation-mitigated microelectronic products include power modules, memory modules and single board computers that incorporate powerful commercial silicon for superior performance and high reliability in aerospace applications. For more information, please visit www.maxwell.com.
This news release contains "forward-looking statements" within the meaning of Section 27A of the Securities Act of 1933 and Section 21E of the Securities Exchange Act of 1934, and other expressions of management's belief or opinion that reflect its current understanding or belief with respect to such matters. These forward-looking statements and the company's business prospects in general are subject to numerous risks and uncertainties, including the fact that the company has a history of losses, may not be able to achieve or maintain profitability, and may not be able to obtain sufficient capital to meet customer demand or other corporate needs. Other risks and uncertainties involve development and acceptance of products based on new technologies, demand for original equipment manufacturers' products reaching anticipated levels, general economic conditions in the markets served by the company's products, cost-effective manufacturing of new products, the impact of competitive products and pricing, and risks and uncertainties involved in foreign operations, including the impact of currency fluctuations. We may also be subject to product liability or warranty claims in excess of our reserves. These and other risks are detailed from time-to-time in the Company's SEC reports, including our Form 10-Q for the quarter ended September 30, 2005, and our Form 10-K for the fiscal year ended December 31, 2004. Actual results may differ materially from those projected. These forward-looking statements represent management's opinions and beliefs as of the date of this news release. The Company disclaims any intent or obligation to update these forward-looking statements to reflect events or circumstances that may arise after the date of this release.
###
Contacts:
Media & Investors: Michael Sund, +1 (858) 503-3233; Email: msund@maxwell.com
Sales & Technical: Dr. Adrian Schneuwly, +41 (0) 26 411 85 50; Email: aschneuwly@maxwell.com
Featured Product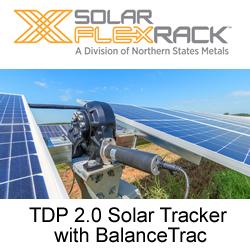 Solar FlexRack's latest solar tracker technology bundles an advanced tracker design with a full team of seasoned engineering and installation experts at your service. The next-generation solar tracker delivers a package of features that both enable increased energy yields for commercial and utility-scale solar installations, and significantly reduce project risks. That translates to smart installation cost-savings across your project budget.