MONTREAL, CANADA, Feb. 5th, 2006 - ICP Solar, a leading manufacturer of products based on advanced solar technology, today announced the launch of its new automotive OEM solar charger, specifically designed to prevent dead batteries from vehicle factory to dealer lot
The ICP Solar OEM product is the embodiment of the finest solar technology for the automotive market today. Thanks to ICP's continuous product R&D, TS16949 certified process and its innovative proprietary manufacturing capacity; the solution created delivers far more power per square inch than competing solar technologies in the heat and UV environment under which solar chargers are required to perform. After months of testing, ICP landed its first major automotive OEM contract with Volkswagen, to become the world's first supplier of thin-film solar solutions to car makers.

ICP Solar's OEM Vehicle products respond to a wide variety of power needs - from storage battery maintenance for small cars all the way up to large recreational vehicles. They are easy to install, operate in silence, require zero maintenance and deliver clean renewable energy - even under cloudy conditions.
"The ICP Solar OEM automotive product line makes solar energy friendly for car makers and saves them substantial costs per car manufactured," said Sass Peress, President and CEO, ICP Solar. "Many car makers were aware of solar energy, but few realized how it can benefit their battery related challenges from factory floor to dealer lot. The power, simplicity and ease of connectivity of our products are unprecedented. The addition of TS16949 certification to our ISO process will give ICP leading edge status in the supply to the automotive industry. With VW becoming the first customer worldwide to embrace this technology, we expect many more to join in the coming months." Mr. Peress added.
About ICP Solar
ICP Solar is a leading manufacturer of products based on advanced solar technology. ICP Solar develops innovative solar-powered products that respond to the needs of consumer, commercial and OEM clients. Founded in 1988, ICP Solar has distribution networks in more than 160 countries worldwide. Headquarters in Montreal, Canada, ICP Solar also has manufacturing and distribution facilities in the UK, US and Germany. For more information, please visit www.icpsolar.com.
Featured Product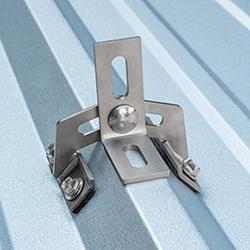 Error-Proof Compression: The QB2 doesn't leave any room for user error when it comes to Microflashing® compression. Once the Dual Drive Shoulder Screw is secured, the Microflashing® is compressed. Only 3 Components: The QB2 is comprised of Microflashing®, an L-foot and a Dual Drive Shoulder Screw. No more Nuts needed to tighten and secure the L-foot! Not only does this simplify the installation process, it also cuts down the installation time.