Cleantech Index (CTIUS) Now Included in all AMEX Reporting Systems
ANN ARBOR, MI, February 22, 2006 — The Cleantech Capital Group LLC announced that Cleantech Index (CTIUS) was officially published today by the American Stock Exchange over consolidated tape, the CTIUS index will be published every 15 seconds between approximately 9:30 AM and 4:15 PM. A brief description, historical index levels and current composition will be provided for all appropriate databases. The Cleantech Index (CTIUS) is an equally weighted index of U.S. exchange-traded companies which are engaged in the cleantech industry.

The CTIUS Index is comprised of 75 companies with a combined market capitalization in excess of $100 billion. Companies in the Cleantech Index have at least fifty percent of their sales obtained from cleantech products and services. The index was established with a base value of 500.00 at the market close on December 31, 1999. The Index is rebalanced every March, June, September and December. Calculations from back-testing of the Cleantech Index suggest the past five and three years significantly outperformed the S&P 500 and Nasdaq indices.
"Cleantech" is defined as any knowledge-based product or service that improves operational performance, productivity or efficiency; while reducing costs, inputs, energy consumption, waste or pollution.
The Index was created by, and is a trademark of, Cleantech Capital Indices LLC. Cleantech Capital Indices LLC is a joint venture between Cleantech Capital Group LLC and Hydrogen Ventures LLC
About the Cleantech Capital Group, LLC
The Cleantech Capital Group LLC (CCG) brought the "cleantech" concept to market in 2002 and organizes the Cleantech Venture Network, a global membership group of investors, entrepreneurs and service providers interested in clean technology. CCG's activities include advisory, research and online services and the Cleantech Venture Forum series of events. CCG has an organizational presence in Australia, China, Canada, Europe and the US.
The Cleantech Venture Network serves more than 900 affiliate investor member firms worldwide. The Network has tracked more than $8 billion invested in cleantech ventures since 1999 and over seven hundred cleantech IPO and M&A transactions. Further information can be found at www.cleantech.com or by calling (+1) 517-223-9607.
About Hydrogen Ventures LLC
Hydrogen Ventures is a management advisory firm founded in 2001, lead by senior managing partner Elias Azrak. Hydrogen Ventures provides technical and financial services tailored to environmentally responsible companies. Hydrogen Ventures is also the creator of the Palisades Water Index. Additionally Azrak is the co-founder of the WilderHill Clean Energy Index and the Palomar Healthcare Technologies Index.
# # #
Featured Product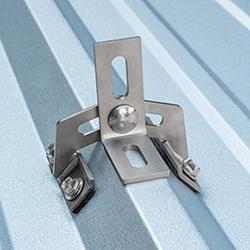 SolarRoofHook's Low Profile QuickBOLT with Microflashing™ is the industry's affordable, UL Certified Asphalt Shingle mounting system. The Microflashing™ is compressed by the collar on the bolt to create a water-tight seal. With an installation time of less than one minute, the Low Profile QuickBOLT allows installers to complete more jobs.