Richard M. Feldt, CEO and President of Evergreen Solar, Inc. Honored in front of a Record 500 Attendees at Cleantech Venture Forum IX in San Francisco
SAN FRANCISCO, March 23, 2006 - The Cleantech Venture Network LLC announced today at Cleantech Venture Forum IX that Richard M. Feldt, Chief Executive Officer and President of Evergreen Solar, Inc., is the recipient of the 2005 Cleantech Leader of the Year. The 2005 Cleantech Leader of the Year is presented each year to a professional investor or service provider who has shown exceptional leadership in adding credibility or resources to the cleantech venturing field.

"Richard and Evergreen Solar have had a tremendous year as the company has established itself as a true leader and visionary in the development and manufacturing of solar power products and technology," said Nicholas Parker, co-founder and chairman of the Cleantech Venture Network. "This honor is a formal acknowledgment by our organization of the efforts of Richard and all of Evergreen Solar's employees as they continue to pioneer the worldwide acceptance of solar power as a legitimate, effective alternative energy resource."
Prior to joining Evergreen Solar, Mr. Feldt served as Chief Executive Officer at Perseid, a developer of optical phased array technology created by Raytheon. Previously, he served as Chief Operating Officer of SupplierMarket.com, which was sold to Ariba. In addition, Mr. Feldt has held senior positions at Symbol Technologies, A.T. Cross Company, Eastman Kodak Company, and Spectra-Physics, Inc. Mr. Feldt received a bachelor's degree in industrial engineering from Northeastern University.
Evergreen Solar, Inc. develops, manufactures and markets solar power products using proprietary, low-cost manufacturing technologies. The company's patented crystalline silicon technology, known as String Ribbon, uses significantly less silicon than conventional approaches. Evergreen's products provide reliable and environmentally clean electric power for residential and commercial applications globally.
About the Cleantech Venture Network, LLC
The Cleantech Venture NetworkTM LLC is a membership organization that brings investors and cleantech entrepreneurs together to do deals through the Cleantech Venture Forum' series of events. Cleantech Venture Network' also provides the industry with research reports, advisory services, and various online services. The organization's mission is to accelerate the next and necessary wave of venture innovation and investment worldwide through their network of over 900 affiliate investors.
The organization has tracked more than $8.3 billion invested in cleantech ventures since 1999. Of the $5 billion of venture investment in the cleantech category since 2002, over $400 million has been raised by companies presenting at Cleantech Venture Forums. Cleantech Venture Network has offices in Canada, Europe and the US. Further information can be found at www.cleantech.com or by calling (+1) 810-224-4310.
Featured Product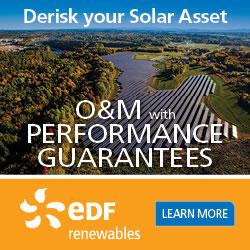 EDF Renewables offers the same innovative solutions that maximize the performance of our own 5.2 GW of installed projects. Because we're not an equipment manufacturer, our recommendations are transparent and data-driven. We cover the entire project lifecycle: from pre-commissioning support, through warranty and post warranty operation, to late stage and decommissioning.