Partnerships Promote E85 in Texas
Partnerships Promote E85 in Texas

Jefferson City, MO -Kroger Company along with NEVC members General Motors and Abengoa Bioenergy announced plans today to establish eighteen E85 fueling locations at Kroger fueling sites throughout Dallas and Houston, Texas. The partnership is part of General Motors campaign to raise awareness of E85 and flexible-fuel vehicles across the country.
"I commend General Motors and its partners for taking steps to make this highly concentrated ethanol fuel - called E85 - more widely available to Texas drivers. I support efforts to further promote the availability and demand of environmentally-friendly fuel across our state," said Gov. Rick Perry.
Abengoa Bioenergy will be the main supplier of the ethanol product for the new locations that will begin to open in May. Abengoa owns and operates five ethanol facilities throughout the United States and Europe with a total production capacity of 195 million gallons.
"I am thrilled that these groups have collaborated on installing E85 stations in my home state," said Curtis Donaldson, Chairman of the National Ethanol Vehicle Coalition (NEVC) and President of CleanFUEL USA located in Georgetown, Texas. "At this time, we have only one accessible E85 facility in the state. I am proud that we will finally have additional locations for the many Texans that drive flexible-fuel vehicles."
Currently, the state of Texas has the most flexible-fuel vehicles registered of any state - over 250,000. Kroger has approximately 500 supermarkets across the U.S. and 60 in the state of Texas.
General Motors also announced that they would extend their partnership with the Governors Ethanol Coalition (GEC) to provide E85 compatible vehicles to their member states. In 2005, the automaker offered the use of model year 2006 flexible-fuel trucks to the 26 states that belong to the GEC. As a part of the 2006 campaign, the NEVC was the first to accept the 2007 E85 compatible vehicle.
To view press releases from other organizations regarding this event, click here.
-30-
Featured Product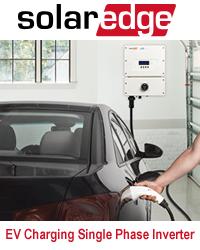 The SolarEdge PV inverter combines sophisticated digital control technology with efficient power conversion architecture to achieve superior solar power harvesting and best-in-class reliability. The fixed-voltage technology ensures the solar inverter is always working at its optimal input voltage over a wider range of string lengths and regardless of environmental conditions. A proprietary data monitoring receiver has been integrated into the inverter and aggregates the power optimizer performance data from each PV module. This data can be transmitted to the web and accessed via the SolarEdge Monitoring Portal for performance analysis, fault detection and troubleshooting of PV systems.