Forklifts raising commercial viability of B.C. fuel cells
The lowly forklift could provide the key to elusive fuel cell profitability for local companies.

That early market opportunity for fuel cells has Richmond-based General Hydrogen Corp. eyeing profitability by the end of 2007 from what is a huge North American industrial sector.
"It's the early success story for hydrogen fuel cells in commercial applications," said president and CEO Frank Trotter, who estimates the market will provide "several billion dollars a year of opportunity for us."
Two units of the company's drop-in replacement hydrogen-powered Hydricity Pack batteries, representing sales of less than $100,000, were recently shipped to General Hydrogen's first commercial customer, Bridgestone/Firestone Tire Co., for its manufacturing plant in Tennessee.
The battery packs uses fuel cells from Ballard Power Systems, whose original founders, Geoffrey Ballard and Paul Howard, started Delaware-registered General Hydrogen six years ago. For General Hydrogen, forklifts and other material-handling vehicles usually found in large warehouse settings now provide the best prospects for early revenues.
"This market is here," said Trotter. "The other market will be coming later."
General Hydrogen is now assembling about a dozen forklift units and targeting 2006 sales of about 100 units to manufacturing companies from various industries within the Detroit, Nashville and Georgia areas.
"If we're able to convert two per cent of that over five years, we will have executed something over $400 to $450 million worth of business. It's a very significant market," said Trotter. "More importantly, the European market is twice as big."
Although it's facing the dual challenge of further reducing the costs of its components and winning over customers used to battery technology that has been around for almost a century, General Hydrogen expects this year to ring up several million dollars in sales and probably 10 times that amount in 2007.
The main advantage of the company's technology compared with regular lead-acid batteries is that it lasts three times longer, up to 18 hours, said Trotter, because of the on-board hydrogen storage.
The operator, he said, can continue to work through an entire shift without having to stop and change a battery.
Trotter added that a forklift that's being used heavily in two or more shifts a day requires between three and five lead-acid battery changes.
Companies can reap benefits from the improved productivity, but the cost of the hydrogen powered pack is slightly more than twice that of conventional lead-acid batteries.
General Hydrogen, which typically burns about half a million dollars a month on product development, recently received an equivalent investment from New York-based development company, GreenShift Corp.
"General Hydrogen has right-sized a clearly transformative technology at a scale that enables commercially viable use of hydrogen fuel cell technology today," said GreenShift's chairman and CEO Kevin Kreisler. "We're very excited by this investment and we plan to help General Hydrogen in its development efforts in any way we can."
GreenShift will buy 500,000 shares of General Hydrogen common stock and 500,000 warrants exercisable into General Hydrogen common stock for US$500,000.
"The trend to clean technology investment is very strong. I've seen recent figures which indicate that it's more than doubled over the last year," said Trotter.
General Hydrogen also sees other applications for its technology, ranging from ground support equipment at airports to providing standby power in data centres.
"Wherever you can see a lead-acid battery that is a large, industrial size, we are focused on replacing that," Trotter said
Featured Product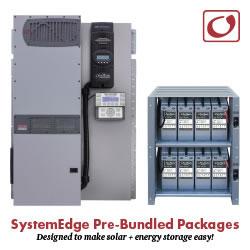 Each pre-bundled package is designed to make solar plus energy storage easy. By combining OutBack's most popular FLEXpower pre-wired systems with matched OutBack energy storage, SystemEdge takes the guesswork out of installing solar plus storage. Every SystemEdge package includes a FLEXpower factory pre-wired system, application-specific EnergyCell batteries and racking, FLEXware ICS Plus combiner and all the necessary connection hardware.