DaimlerChrysler Offers FFVs to the Public
Jefferson City, MO - DaimlerChrysler Corporation, one of the four automobile manufacturers that produce flexible-fuel vehicles (FFVs), have began to offer their E85 compatible vehicles to the public. The six Dodge and Chrysler model 2006 FFVs were previously only offered to fleets.

"We are elated to know that DaimlerChrysler will offer their vehicles to the every day consumer," said Phil Lampert, Executive Director of the National Ethanol Vehicle Coalition. "We believe that this move will prove beneficial to DaimlerChrysler as well as the every day consumer that requests the availability of these vehicles."
DaimlerChrysler currently offers the following model year 2006 vehicles as E85 compatible:
3.3 liter Dodge Caravan and Dodge Grand Caravan
2.7 liter Chrysler Sebring Sedan and Dodge Stratus
4.7 liter Dodge Durango
4.7 liter Dodge Ram 1500 Series
The above vehicles have been offered at retail sale since March 15. It is anticipated that dealers will not have a large inventory on their lots, however; the FFVs can be specially ordered. These vehicles are not available for purchase in California, New York, Connecticut, Maine and Vermont.
There are currently twenty models of FFVs available for retail purchase. To view a listing of these vehicles, visit www.E85Fuel.com.
-30-
Featured Product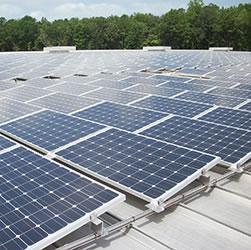 The Power Rail™ Commercial Mounting System is designed with the professional PV solar installer in mind. Both the XD/UD and LD/MD rails feature single tool assembly with the revolutionary patented RAD™ Lock-in-Place bolt for fast and secure module clamping. The high strength marine-grade aluminum rails include an integral wiring channel for securing cables and providing a professional finish.