Debra Taevs has been named new construction manager for Conservation Services Group (CSG) in the firm's Portland, Ore. office.
WESTBOROUGH, Mass., April 10, 2006 - Debra Taevs has been named new construction manager for Conservation Services Group (CSG) in the firm's Portland, Ore. office. She is responsible for the field portion of the ENERGY STAR®-Labeled Homes program for Energy Trust of Oregon and the Northwest Energy Efficiency Alliance.

Taevs has more than 15 years of program development, project management, sales and marketing and high tech experience. She also brings a strong commitment to sustainable business practices to CSG, having worked for numerous environmental organizations and causes.
Most recently, Taevs spearheaded a paper waste prevention campaign for Seattle Public Utilities. In this position, she helped obtain a Mayor's Executive Order directing the 10,000 Seattle City employees to reduce paper consumption by 30 percent and switch to 100 percent recycled paper. Before joining Seattle Public Utilities, Taevs held sales and marketing positions with Ecoprint and Denton Plastics Recycling in Portland, Ore. Prior to that, Taevs was a sustainable business practices consultant for Eco2, an environmental consulting firm, also in Portland.
Over the years, Taevs has volunteered for a number of environmental organizations in Oregon. Under her leadership as president and vice president (1998 and 1997, respectively) of the Earth and Spirit Council, the group raised $30,000 for the first Procession of the Species Earth Day event. Taevs was also the Ore. field representative for Earthwatch, serving as the local point person for scientific eco-tourist research projects worldwide. Taevs has also volunteered overseas, serving the Peace Corps in Romania for three years. During that time, Taevs designed and managed an Eco-ED program for grade schools and trained almost 700 teachers to use the curriculum. The model Taevs developed continues to be used by other Peace Corp groups.
Over the years, Taevs held sales and sales management positions with several high tech companies on the West Coast including Compware, WISE Software and American International Facsimile Products.
Taevs holds a bachelor's degree from San Diego State University in business administration and marketing. She received a master's degree in public administration and environmental policy and holds a certificate in environmental management from the University of Washington. Taevs has also studied several languages including Romanian, French, Swahili and Japanese.
A native of Lamar, Colo., Taevs currently residents in Portland, Ore.
Conservation Services Group, based in Westborough, Mass., is a non-profit energy services firm with 14 offices nationwide. CSG has been providing energy saving strategies and technologies to consumers and businesses since 1984. For more information, visit www.conservationservicesgroup.com.
Featured Product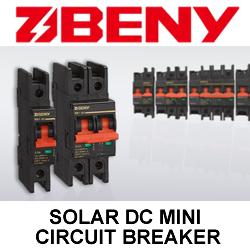 The BB1-63 modular miniature circuit-breakers can be used in solar DC circuits up to 1200 VDC (4-poles execution). Application in solar DC circuits, battery energy storage systems and UPS. Arc flash barrier design keeps solar equipment more safe and reliable. For DC circuit over-current protection.