Europe's top-20 utilities now see renewable generation portfolios as key elements of their business plans, according to EER's new study, Renewable Generation Strategies of Europe's Utilities, 2006-2011.
Barcelona, 10 April 2006 - Utilities in Europe are increasingly adding renewable energy to their generation portfolios as they address a shifting set of strategy drivers in an increasingly competitive power market, according to Emerging Energy Research—a research and advisory company based in Barcelona, Spain and Cambridge, Massachusetts.

With natural gas prices spiking to new heights, nuclear power policy in flux, and Kyoto restrictions and high prices impacting coal-fired generation, Europe's top-20 utilities now see renewable generation portfolios as key elements of their business plans, according to EER's new study, Renewable Generation Strategies of Europe's Utilities, 2006-2011.
EER's study predicts that investment in utility-scale renewable generation will exceed €50 Billion by 2011, excluding large hydro. Europe's top-20 utilities plan to double their renewables' capacity in the next five years and have already earmarked over €15 Billion solely for renewable energy projects, according to the study. Much of the planned renewables investment is dedicated to onshore wind, but offshore wind, solar, biomass, and small hydro are also finding their way into utility plans.
For utilities, renewable generation strategies are driven by a combination of regulatory pressure, efforts to improve generation business performance, and strategic growth opportunity. "Utilities in Europe are increasingly prioritizing different renewable technology solutions alongside conventional generation assets, leveraging renewables experience to enter new markets, and creating profitable renewable energy business units to drive growth," according to EER analyst Alex Klein.
Wind leads the way with biopower, solar CSP following suit
As Europe's biggest success story, wind has so far been the main focus of utility renewables strategies with over 40 GW installed. EER forecasts that in the foreseeable future wind will remain the major source of utility-scale growth in Europe with 35 GW planned by 2011, and with new markets such as the UK, France, Portugal and Italy entering boom phases.
After wind, utilities are taking a closer look at biopower as they strive to find cost-effective ways to meet renewables targets and reduce greenhouse gas emissions. In the short-term, according to the EER study, utilities are increasingly co-firing biomass in conventional fossil-fired plants as a way to reduce carbon dioxide emissions while minimizing upfront investments. Through co-firing initiatives, utilities are gaining valuable experience that they can leverage to develop stand-alone biomass projects.
Concentrated solar power (CSP)—drawing from the sun's thermal energy—is slowly gaining momentum in Europe's southern region. Spain has set a 2010 target of 200 MW of solar thermal generation capacity and aggressive new solar feed-in tariffs are spurring considerable project development in CSP technology. Depending on its success in Spain, CSP could quickly emerge as a scalable solution in other Southern European countries, where solar resources are considerable and governments are considering implementing higher, longer-term bankable incentives for solar energy.
Wave and tidal energy holds great promise for large-scale projects but faces real challenges with economic viability, environmental obstacles, and grid connection issues. Support schemes in the UK, Spain, and Portugal offering production incentives have helped utilities overcome initial cost obstacles, and a few commercial wave and tidal projects could be brought online in the next few years. Utilities such as EDP and ScottishPower are helping lend credibility to the wave sector, partnering with wave technology companies to attract financing.
Wind activities drive Iberdrola leadership in European renewables
Among Europe's top-20 utilities, Iberdrola of Spain is the market leader in terms of renewable generation, excluding large hydro, with close to 15% of its total installed capacity using renewable energy sources, with wind being the largest contributor. The Spanish utility is not only the largest wind power producer in the world in terms of installed capacity, virtually tied with US IPP FPL Energy, but is also establishing itself as the largest solar energy project developer amongst Europe's utilities, with a pipeline of nearly 600 MW of solar CSP to be developed by 2010.
"To develop its wind strategy, Iberdrola has relied on partnerships with local and regional developers, as well as local banks and government agencies. They seem to be following some of the same patterns as they look to develop utility-scale solar CSP," Klein explains.
On a percentage basis, Vattenfall, EDP, Statkraft and ScottishPower all showed substantial increases in renewable generation capacity during 2005, according to the EER study. This growth was derived both from projects coming on stream and through key acquisitions. Enel has one of the largest and most diverse renewables portfolios due to significant ownership of geothermal and small hydro capacity, and its more recent development of wind farms.
When large hydro generation is considered, Statkraft, Verbund, and Iberdrola are the only three utilities that rely on renewables for more than 50% of their installed capacity base. Seven large utilities—Statkraft, British Energy, EDF, Iberdrola, Verbund, Fortum, and Vattenfall—rely on 'carbon free' generation, including nuclear, for more than 50% of their total generation capacity. Statkraft leads the way with large hydro assets accounting for more than 98% of its controlled generation capacity.
"The most aggressive renewables players on a Pan-European scale will be EDF, Enel, and E.ON, which have established massive war chests to pursue cross border acquisitions and large development in renewables," according to Klein. "Companies such as DONG, ScottishPower, Iberdrola, Electrabel and EDP will focus considerable efforts to lead the way in their regional markets and to leverage their previous experience in onshore wind to capture other scalable opportunities over the medium to long-term."
Until recently EDF, E.ON, and RWE, Europe's largest and most aggressive utilities, have had a passive interest in the renewables sector, typically becoming involved only when obligated to under national law, but that is changing, according to EER's study. With their substantial balance sheets these three companies are emerging as major renewables players, and will be among the most active in the coming years, challenging for renewables leadership in Europe.
"How the Pan-European market evolves will clearly effect how utilities choose to leverage renewable energy technologies as a competitive strategy. Increasing consolidation over the next five years is likely to further concentrate renewable energy capacity in the hands of the top-20 players as these companies seek to acquire and build profitable renewable portfolios and increase overall market share," says Klein.
ABOUT THE STUDY
Renewable Generation Strategies of Europe's Utilities, 2006-2011 analyzes major European utility activity in key emerging renewable generation segments, specifically wind, biopower, small hydro, solar, geothermal, and ocean power. The 270-page study focuses on which technologies will follow wind as scalable additions to utilities' generation portfolios, assessing how much utilities plan to invest in renewable generation over the long term, and tracking how utilities are executing these investment strategies. For more information on the study click here.
ABOUT EMERGING ENERGY RESEARCH
Emerging Energy Research (EER) is an independent research and advisory company that provides pragmatic forward-thinking advice about new energy technologies, markets and strategies.
Featured Product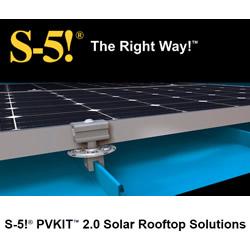 The concept of combining PV arrays with standing seam metal roofing is growing-for good reasons. Metal roofs have a life expectancy of more than 40 years. Shouldn't the mounting system last as long? With S-5! zero-penetration attachment technology and PVKIT 2.0, the solarized metal roof is the most sustainable system available -and without compromising roof warranties! PVKIT 2.0 is the also the best solution for attaching PV modules directly to any exposed fastener metal roof.