Real time climate change response using Nature's confirmed solution to excess solar radiation.
______ ETT_______

Environmental Treatment Technologies, Inc.
800-472-1045 Buffalo, Wyoming ett@wyoming.com
April 2006
To date I have yet to hear any counter-active strategies to address climate change. I believe the globally destructive nature of climate change demands a similarly global mindset to seek a solution.
I have an idea, of global dimension, by which humanity may attempt to counteract uncontrolled emissions of greenhouse gasses. The very simple idea involves emitting sulfur dioxide into the stratosphere to react with stratospheric water vapor and form a reflective gaseous 'shield' to reflect incoming solar radiation in the same way volcanic eruptions are known to form a stratospheric SO2 layer and result in significant global temperature reductions. This same process could be accomplished by installing SO2 generators on aircraft for dispersion of the reflective gas at stratospheric levels - not unlike the emissions from a volcano. Such a global climate control mechanism which copies the natural volcanic phenomenon should be attempted as soon as possible. Such an atmospheric gas emission process would be a first method of managing earth climate, and could be improved through execution.
This solution would be a simple means of applying a natural event as a tool for limiting incoming solar radiation, and could be gradually implemented to ensure successful application.
Bruce W. Bandorick, MEM
Thunder Basin Environmental Consulting, Inc.
Environmental Treatment Technologies, Inc.
307-684-1277
Buffalo, WY 82834
www.tbecOnline.com tbec@wyoming.com
Featured Product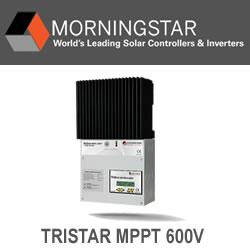 Morningstar's TriStar MPPT 600V charge controller leverages Morningstar's innovative TrakStar™ MPPT technology and our 20+ years of power electronics engineering excellence, to enable the widest input operating voltage range available from a solar array, wind turbine or hydro input. This controller's standard and DB versions are for off-grid applications, and the TR versions were developed to enable retrofitting grid-tied systems with battery backup.