AudioInvestorForum.com Features Podcasts, Audio Interviews, Audio Blogs, Online Conferences, and Roundtables in Renewable Energy, Natural Gas, Oil and Gas and Coal Sectors
InvestorIdeas.com' Features Audio Blogs and Podcasts for Energy Investment Sectors

AudioInvestorForum.com Features Podcasts, Audio Interviews, Audio Blogs, Online Conferences, and Roundtables in Renewable Energy, Natural Gas, Oil and Gas and Coal Sectors
POINT ROBERTS, Wash., Delta B.C. May 9th, 2006 - www.InvestorIdeas.com', announces the launch of its audio content and podcast portal, www.AudioInvestorForum.com, featuring CEO and analyst interviews, online roundtables with industry experts and online investor conferences in renewable energy, natural gas, coal and oil and gas sectors. The podcasts and audios feature a cross section of commentary from some of the energy sector's leading industry experts and perspectives from CEO's of small to large cap public companies.
The current featured audio is the recent online energy conference "Working towards a diversified energy portfolio; driving opportunities in renewable and clean energy, oil, natural gas, and coal", held April 26th.
Online Energy Conference: http://www.investorideas.com/forums/Portals/energy.aspx
About InvestorIdeas':
InvestorIdeas.com' umbrella of industry specific portals currently includes Blogs, RSS news feeds, investor conferences and online forums, directories of public stocks, audio interviews and exclusive industry articles, in addition to well known freelance writers. Sectors covered include Homeland Security, Energy, Water, Renewable Energy, Environment, Oil and Gas, Coal, Nanotechnology, Gaming, Wireless, Digital Media, China, India , Mining and a diverse group of leading sectors relevant to today's trends, representing long term growth opportunities. InvestorIdeas.com' does not make stock recommendations, but offers a unique suite of informational portals for investors and industry to research specific industry sectors.
InvestorIdeas.com' also features exclusive financial content by leading financial columnists:
"The Insiders Corner" a weekly column by well-known financial writer and author Michael Brush. http://investorideas.com/insiderscorner/
"The Defense Market Report," a weekly feature by well-known defense sector correspondent James H. Smith.
http://www.homelanddefensestocks.com/DMR/Default.asp
InvestorIdeas' Investor Incite Newsletter:
InvestorIdeas.com' free "Investor Incite" Newsletter consists of company and industry updates, investment research and developing trends in key areas such as Homeland Security, Renewable Energy, Oil and Gas and more. TO SIGN UP, click here: www.InvestorIdeas.com/Resources/Newsletter.asp or become a 'priority' member of the InvestorIdeas.com' at http://investorideas.com/membership/ .
InvestorIdeas.com' Disclaimer: www.InvestorIdeas.com/About/Disclaimer.asp. Our sites do not make recommendations, but offer information portals to research news, articles, stock lists and recent research. Nothing on our sites should be construed as an offer or solicitation to buy or sell products or securities. We attempt to research thoroughly, but we offer no guarantees as to the accuracy of information presented. All information relating to featured companies is sourced from public documents and/ or the company and is not the opinion of our web sites.
Contact:
Dawn Van Zant: 800-665-0411- dvanzant@investorideas.com
Ann Marie Fleming: 866-725-2554 - afleming@investorideas.com
Featured Product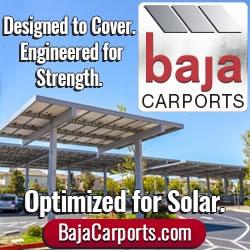 Baja Carports offers an extensive solar support system product line customized to customers' site specifications by in-house engineers, meeting their parking lot coverage, plus optimal PV production needs. Baja's Full Cantilever Tee is often paired with its Semi and Full Cantilever carports to meet live/loads up to 60psf and wind speeds to 160mph. All Baja products are pre-fabricated, bolted connections, pre-galvanized structural steel for fast on-site installation and project aesthetic requirements."