EnvironmentStocks.com Discusses Corporate Mandates of Top Global Enterprises Going Green and Exploring Sustainability
InvestorIdeas.com' Launches EnvironmentStocks.com - A New Investor and Industry Portal for Environmental and Green Technology Investing

EnvironmentStocks.com Discusses Corporate Mandates of Top Global Enterprises Going Green and Exploring Sustainability
POINT ROBERTS, Wash., May 11, 2006 - www.EnvironmentStocks.com (ES) an investor and industry news portal for the environmental sector, is pleased to offer a new online resource for investors, following the 'Green technology revolution' led by Internet visionaries such as Bill Gates, Steve Case and Scott McNealy. Last year when Gates invested $84 million in a California company focusing on ethanol bio-refineries, he set the bar for higher level investment in Green technology. Steve Case was also quoted in the Washington Post as saying that, "The green, sustainability movement is going mainstream.. we want to ride that wave."
As global economies such as China and India continue to experience fast paced growth and rapid industrialization, environmental impacts are now directly being linked to the financial bottom line. Environmental damage and the costs to repairs can negate growth in terms of cost if they are not managed.
World Bank Chief Scientist Robert Watson recently announced, "It's quite clear we have a number of technologies but the private sector has walked away." He furthered, "The problem is to induce investment. We are coming to see a growing interest in Green solutions."
Top level companies such as Intel and Nokia will be speaking out this summer at an event sponsored by Ethical Corporation, on their own strategies for going Green. According to Intel Corporation's last Global Citizenship Report, the company "Recycled 63% of chemical waste generated worldwide," and "reduced 19% absolute PFC emissions from 2003 levels—remain on track to meet 2010 goal."
On a global level, Worldwatch Institute President Christopher Flavin stated that, "Already, China's world-leading solar industry provides water heating for 35 million buildings, and India's pioneering use of rainwater harvesting brings clean water to tens of thousands of homes. China and India are positioned to leapfrog today's industrial powers and become world leaders in sustainable energy and agriculture within a decade." A study released by the Institute noted that for both countries, "Coal combustion may provide as much as two-thirds of the 2,000+ recognized tons of annual anthropogenic emissions of mercury to the atmosphere."
Speaking about the Green tech wave in the U.S., Dr. Michael Huddy, President and CEO of International Barrier Technology, Inc. (TSXV: IBH; OTCBB: IBTGF) draws attention to the importance of giving the public what they want. Huddy says, "Corporate eco-friendly status in the United States has become extremely important. The mood of the public here is that people are very keen on not having materials in their home that could potentially cause health problems. Simply the perception that a building product might contain hazardous materials is enough for the public to request it not be used in the construction of their home. On the contrary, the designation of "green" or "ecofriendly" is enough for people to request a product in and of itself."
Huddy says Blazeguard®, "is a composite product involving a structural substrate panel that is coated with our proprietary Pyrotite' coating which will impart fire resistance. The coating is a Green product and we know this because all of the component parts mixed together to make this coating are inert, inorganic, non-hazardous materials."
In terms of future 'Green ambitions', Dr. Huddy says that as a company, "we are going through the process of finding an appropriate, sanctioned agency to classify and list Blazeguard as a Green building product. We are also attempting to find ways where a builder can get design points (LEED points) for utilizing Blazeguard in their buildings. We want to be able to provide benefit to the builder not only from the inherent advantages of strength and fire performance provided by Blazeguard, but also from the credit given for utilizing environmentally friendly products as well."
Green technology innovation appears to be a growing occurrence, as we see top level executives diversifying their portfolios with renewable energy ventures. As the opportunity to access a wider array of Green smart products increases, the market will reflect the change in consumer patterns and a greener focus could become further entrenched in the marketplace.
About EnvironmentStocks.com: (ES) is an investor and industry news portal within the InvestorIdeas.com content umbrella, for the environmental and socially responsible investing sector. The website does not make recommendations, but offers a unique free information portal to research news, exclusive articles, audio interviews, blogs and investor conferences. Additionally the site includes a growing list of participating public companies in the sector: http://www.environmentstocks.com/Enviro_Stocks/Stock_List.asp. To compliment the list, ES also features links to our Renewableenergystocks.com stock list: http://www.renewableenergystocks.com/Companies/RenewableEnergy/Stock_List.asp.
Featured Portal Sponsor: International Barrier Technology, Inc. ("Barrier") (OTCBB: IBTGF; TSXV: IBH) develops, manufactures, and markets proprietary fire resistant building materials branded as Blazeguard®. Barrier's award-winning Blazeguard® wood panels use a patented, non-toxic, non-combustible coating with an extraordinary capability: it releases water in the heat of fire. The panels exceed "model" building code requirements in every targeted fire test and application, and are unique in combining properties that increase panel strength and minimize environmental and human impact. Blazeguard® provides Barrier's customers a premium material choice meeting an increasingly challenging combination of requirements in residential and commercial building construction. www.intlbarrier.com .
EnvironmentStocks.com is compensated by featured company International Barrier Technology, Inc, please read disclaimer.
Additional Investor Content:
InvestorIdeas.com' free "Investor Incite" Newsletter consists of company and industry updates, investment research and developing trends in key areas such as Homeland Security, Renewable Energy, Oil and Gas and more. TO SIGN UP, click here: www.InvestorIdeas.com/Resources/Newsletter.asp Become a 'priority' member of the InvestorIdeas.com' http://investorideas.com/membership/
InvestorIdeas.com Disclaimer: www.InvestorIdeas.com/About/Disclaimer.asp. Our sites do not make recommendations, but offer information portals to research news, articles, stock lists and recent research. Nothing on our sites should be construed as an offer or solicitation to buy or sell products or securities. We attempt to research thoroughly, but we offer no guarantees as to the accuracy of information presented. All Information relating to featured companies is sourced from public documents and/ or the company and is not the opinion of our web sites. ES is compensated by International Barrier Technology, Inc. (IBTGF: OTCBB): Three thousand per month and 100,000 options.
For more information contact:
Dawn Van Zant 800.665.0411
Ann-Marie Fleming 866.725.2554
Email: dvanzant@investorideas.com, or afleming@investorideas.com
Web Site: www.EnvironmentStocks.com
Source: EnvironmentalStocks.com, International Barrier Technology, Inc.
Featured Product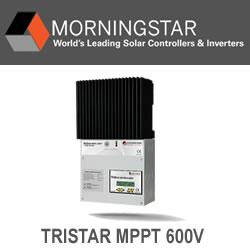 Morningstar's TriStar MPPT 600V charge controller leverages Morningstar's innovative TrakStarâ"¢ MPPT technology and our 20+ years of power electronics engineering excellence, to enable the widest input operating voltage range available from a solar array, wind turbine or hydro input. This controller's standard and DB versions are for off-grid applications, and the TR versions were developed to enable retrofitting grid-tied systems with battery backup.