Wall Street gathers this week at the largest U.S. finance forum dedicated to reviewing investment in the growing renewable energy sector.
New York - Wall Street gathers this week at the largest U.S. finance forum dedicated to reviewing investment in the growing renewable energy sector. Last year, investors put more than $48 billion worldwide into clean energy companies and projects such as wind farms and ethanol plants. This year, that figure is expected to rise to approximately $60 billion, according to research firm New Energy Finance.

This year's Renewable Energy Finance Forum - Wall Street (REFF-Wall Street), being held on June 21-22, will specifically concentrate on the burgeoning investments in the biofuels, wind and solar sectors.
According to New Energy Finance, an estimated USD $7.96bn was invested in US and Canadian Clean Energy companies and projects in 2005. Venture Capital/Private Equity, Public Market and Asset-Based investment in clean energy was USD $24.1bn globally in 2005, therefore US and Canadian investment represents around 33% of global investment activity in the sector. Investment in the US and Canadian companies and projects consisted of Venture Capital/Private Equity of USD $981m, Public Market IPOs and Secondary Offerings of USD $1.43bn, and Asset-Based Financings of USD $5.55bn. A total of 184 deals were recorded during 2005: 23 in VC/PE; 90 in Public Markets; 71 in Asset-Based Financings.
Asset Based Financing investment was made in all sectors, with on-shore Wind receiving the majority of investment - USD $3.4bn - followed by Biofuels - USD $1.34bn.
The biofuels industry has doubled its size in the last year. Ethanol, in particular, has become a favorite of the major money center banks in the last 12 months. Today, roughly 50 such ethanol plants are currently under construction. With oil at $70 per barrel and heavy federal tax subsidies in place for refiners who use ethanol, the economics of these plants makes sense, for now. Topics to be addressed at the forum include biofuel demand and its connection to the price volatility of oil; possibilities of future Congressional action in lifting ethanol subsidies; and protection of tariffs that protect homegrown ethanol from competing directly with ethanol made more cheaply abroad, specifically from sugar cane.
Wind has become the most "mature" of the renewable technology industries with major players such as General Electric and Siemens now holding major shares of the worldwide turbine production market. Last year, developers put up 2,400MW of new wind capacity in the US and this year the figure is expected to top 3,000MW, according to the American Wind Energy Association. Early equity financing for such projects came primarily from private investors with banks providing the debt. But after getting the green light from bank regulators and the IRS, major banks are now taking significant equity stakes as well in wind. REFF-Wall Street presenters will tackle whether projects are spinning out the returns their investors and creditors expected and whether banks have over-stepped their bounds and taken on too much risk by taking direct ownership of wind projects.
The spectacular IPOs of SunPower and Suntech in 2005 proved to Wall Street that there is plenty of money to be made on solar. But growth of the industry is currently constrained by a worldwide lack of processed silicon. Processors are scrambling to increase their output as states such as California begin offering residents unprecedented subsidies to put panels on their roofs. Solar equipment makers say they are just a few years away from producing panels that are truly cost-competitive without the subsidies, and REFF-Wall Street presenters are going to address whether this is in fact true, given that processed silicon remains in short supply due to growing German and Chinese markets.
For decades, Wall Street regarded clean energy as little more than a pipe dream. Clearly, those days are over.
Those press interested in attending should contact Peter Judice, 212-614-4506 or Peter.judice@bm.com. Please be sure to specify which day interests you.
REFF-Wall Street 2006 is supported by the American Wind Energy Association (AWEA), Biomass Coordinating Council (BCC), National Hydropower Association (NHA), Renewable Fuels Association (RFA), Solar Energy Industries Association (SEIA) and US Energy Association.
Conference co-chairs are Michael Eckhart, President, ACORE; Nancy Floyd, Co-Founder and Managing Director, Nth Power; Ken Locklin, Director, Massachusetts Green Energy Fund; Torsten Merkel, Conference Manager, Euromoney PLC; Dan W. Reicher, Founder and President, New Energy Capital; and Michael D. Ware, Managing Director, Advance Capital Markets Inc.
About American Council On Renewable Energy (ACORE)
ACORE, a 501(c)(3) membership nonprofit organization headquartered in Washington, DC, is dedicated to bringing renewable energy into the mainstream of the US economy and lifestyle through information and communications programs. ACORE provides a common platform for the wide range of interests in the renewable energy community including renewable energy industries, associations, utilities, end users, professional service firms, financial institutions and government agencies. ACORE serves as a forum through which these parties work together on common interests. Membership information is available at: www.acore.org.
About Euromoney Energy Events
Euromoney Energy Events (EEE) is a London-based wholly owned subsidiary of Euromoney Institutional Investor PLC, the publisher of Institutional Investor, Project Finance, Power Finance & Risk, Renewable Finance and other global publications. EEE's diverse range of conferences address topical issues in the energy sector, with a focus on financial and commercial aspects, in a portfolio that ranges across Renewable Energy, Waste, Nuclear, LNG and Emissions. EEE also is the organizer of the Renewable Energy Finance Forum held every September in London.
For additional information about Renewable Energy Finance Forum - Wall Street 2006, visit: www.reff-wallstreet.com.
Featured Product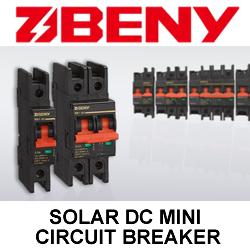 The BB1-63 modular miniature circuit-breakers can be used in solar DC circuits up to 1200 VDC (4-poles execution). Application in solar DC circuits, battery energy storage systems and UPS. Arc flash barrier design keeps solar equipment more safe and reliable. For DC circuit over-current protection.