Leading Energy Website Features Content for Solar, Wind, Ethanol, Energy Efficiency and a Comprehensive Directory of Renewable Energy Stocks
RenewableEnergyStocks.com' Receives Registered US Trademark for "Online Energy Industry Information in the Field of Renewable and Alternative Energy"

Leading Energy Website Features Content for Solar, Wind, Ethanol, Energy Efficiency and a Comprehensive Directory of Renewable Energy Stocks
POINT ROBERTS, Wash., Delta BC - June 20, 2006 www.RenewableEnergyStocks.com', a leading investor and industry portal for the renewable and alternative energy sector has received US registration June 13, 2006, for the Trade Mark for RenewableEnergyStocks.com'; registration number 3103195. RenewableEnergyStocks.com' is a content provider and aggregator with a blend of original articles, interviews, blogs and stock directory in combination with industry resources, news feeds, links and third party content partners.
The Trade Mark was issued for: Goods and Services IC 035. US 100 101 102. G & S: Providing online energy industry information in the field of renewable and alternative energy, namely biogas, ethanol, biomass, flywheel, geothermal, microturbine, solar, solar photovoltaics, sustainable and electric transportation, wind power, wind energy, wave energy and energy efficiency.
"Our Renewable Energy website has been operating for several years and currently is the top ranked site on Yahoo! and Google for the search phrase "Renewable Energy Stocks". Years of building our industry positioning is now paying off as mainstream investors and industry are all looking at renewable and alternative energy sources as a high priority solution to oil as prices hover around $70 a barrel. Our Trade Mark enhances and strengthens our positioning on a long term basis," commented founder Dawn Van Zant.
Additionally, www.InvestorIdeas.com', owns the registered Trademark for "INVESTORIDEAS.COM BIG IDEAS FOR THE SMALL CAP INVESTOR" received from the United States Patent and Trademark office. Registration of the Trademark is effective December 13, 2005.
About our Clean Energy Portals:
www.RenewableEnergyStocks.com' (RES), www.EnvironmentStocks.com (ES) and www.FuelCellCarNews.com (FCCN) are portals within the InvestorIdeas.com' content umbrella. Our sites do not make recommendations, but offer investors research, news, interviews, articles, blogs and links to public companies within the renewable energy, clean tech and fuel cell sectors. We provide a variety of renewable and green content through: Clean Energy News Blog, Renewable Energy Blog and articles by solar expert, J. Peter Lynch, all available on RenewableEnergyStocks.com'
For our comprehensive list of Renewable Energy Stocks: http://www.renewableenergystocks.com/Companies/RenewableEnergy/Stock_List.asp
Featured Renewable Energy Portal Sponsors: (RES is compensated by: Alchemy Enterprises, Encore Clean Energy, Hydrogen Power International Inc., XsunX Inc., Smartcool Systems and Vitasti Inc. as disclosed in disclaimer)
Renewable Energy Conferences and Events:
The Ultimate Green Tech Investor Virtual Stock Trading Contest (June19 th - August 18th)- Green technology investor portals www.RenewableEnergyStocks.com and www.GreenTechInvestor.com present "The Ultimate Green Tech Investor Virtual Stock Trading Contest" - register now for a chance to win a ZAP® www.zapworld.com electric car or electric scooter as well as gain a valuable education on green technology over the course of this summer's virtual trading competition.
Current sponsors and prizes include a ZAP® www.zapworld.com Electric Car, and Electric Scooter, plus prizes from MicrocapTrade www.microcaptrade.com, Energy Hedge Fund Center LLC www.energyhedgefunds.com and eco friendly children's products, Wild Heart Ranch www.WildHeartRanch.com
To register and sign up: http://www.greentechinvestor.com/sign_up.aspx
List of Green Stocks to Trade: http://www.greentechinvestor.com/stock_list.aspx
Disclaimer: Portals are compensated by Featured advertising companies as disclosed in disclaimer below
Archived Online Energy Investor Conference:
Held April 26, 2006 - Working towards a diversified energy portfolio; driving opportunities in renewable and clean energy, oil, natural gas, and coal http://www.investorideas.com/forums/Portals/energy.aspx
Disclaimer: www.InvestorIdeas.com/About/Disclaimer.asp Our sites do not make recommendations, but offer information portals to research news, articles, stock lists and recent research. Nothing on our sites should be construed as an offer or solicitation to buy or sell products or securities. We attempt to research thoroughly, but we offer no guarantees as to the accuracy of information presented. All Information relating to featured companies is sourced from public documents and/or the company and/or IR firm and is not the opinion of our web sites. These sites are currently compensated for by its "featured companies" http://www.investorideas.com/About/Disclaimer.asp InvestorIdeas.com' and all portals within the content portfolio are owned by ECON Corporate Services, Inc. and all Registered Trade Marks are the property of ECON including InvestorIdeas.com' and RenewableEnergyStocks.com'.
For more information contact:
Dawn Van Zant: 800-665-0411 - dvanzant@investorideas.com
Ann Marie Fleming: 866-725-2554 - afleming@investorideas.com
Source: RenewableEnergyStocks.com'
Featured Product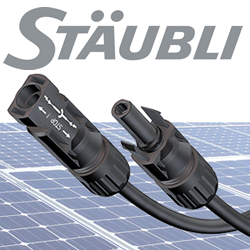 ​Stäubli Electrical Connectors are used on more than 300 GW, over 50% of the PV capacity worldwide. The MC4 family of UL and TUV listed products include connectors, in-line fuses, branch connectors, cable assembly and more.