Maxwell Technologies Recognized By Frost & Sullivan As "Pioneer" Manufacturer Of Ultracapacitor Products
San Diego, CA ó Maxwell Technologies, Inc. (Nasdaq: MXWL) announced today that global growth consulting company, Frost & Sullivan, has designated the company as an industry Mover & Shaker. Frost & Sullivan recently published a report which identifies Maxwell as "steering the growth of the market through their unique strategies and noteworthy leadership."

Maxwell was chosen as a Mover & Shaker for its ongoing dedication to "curbing the cost of materials by efficient sourcing mechanisms as well as developing low cost materials and designs." According to Frost & Sullivan, this has in turn, leveraged the company's production resulting in increased market penetration.
"The recognition as a 'Mover & Shaker' by a top analyst IT firm, validates the strength of our solution and our leadership position in the marketplace, as well as stresses the importance for ultracapacitors in improving or taking the place of batteries," said Dr. Richard Balanson, Maxwell's president and chief executive officer. "Maxwell will continue to grow as the leader of the ultracapacitor market, through improved product lines and service offerings. Our end goal is to obtain the cleanest, most reliable and efficient power and energy solutions to meet the worldwide demand."
A question and answer interview was recently held with Mike Sund, vice president of communications and investor relations for Maxwell, and Frost & Sullivan analyst, Anu Cherian. The interview discussed Maxwell's plans for the future, current marketing trends, industry challenges involving ultracapacitors, and competitor relations. The report was published on June 29, 2006 and can be found at http://www.frost.com/prod/servlet/market-insight-top.pag?docid=73700061.
Maxwell recently introduced its new "Quick-Turn" BOOSTCAP® ultracapacitor module program that offers custom-configured, multi-cell energy storage and power delivery solutions for systems requiring up to 540 volts. Two other recent additions include the BOOSTCAP® Energy and Power type "C-Cell" ultracapacitor cells and multi-cell packs which are used in industrial and transportation applications, and the BOOSTCAP® "D-Cell" ultracapacitor cells, packs, and modules that are used for automotive electrical power network stabilization and industrial applications. Both the "C-Cell" and "D-Cell" provide high-performance, "life-of-the-system" alternatives to batteries.
Maxwell also announced in June that it had signed supply agreements with seven new distribution partners, which strengthens and expands the company's growing international channel network into the Asia Pacific and South Asian technology markets.
About Frost & Sullivan Frost & Sullivan, a global growth consulting company, has been partnering with clients to support the development of innovative strategies for more than 40 years. The company's industry expertise integrates growth consulting, growth partnership services, and corporate management training to identify and develop opportunities. Frost & Sullivan serves an extensive clientele that includes Global 1000 companies, emerging companies, and the investment community by providing comprehensive industry coverage that reflects a unique global perspective and combines ongoing analysis of markets, technologies, econometrics, and demographics. For more information, visit www.frost.com.
Maxwell is a leading developer and manufacturer of innovative, cost-effective energy storage and power delivery solutions. Our BOOSTCAP® ultracapacitor cells and multi-cell modules and POWERCACHE® backup power systems provide safe and reliable power solutions for applications in consumer and industrial electronics, transportation and telecommunications. Our CONDIS® high-voltage grading and coupling capacitors help to ensure the safety and reliability of electric utility infrastructure and other applications involving transport, distribution and measurement of high-voltage electrical energy. Our radiation-mitigated microelectronic products include power modules, memory modules and single board computers that incorporate powerful commercial silicon for superior performance and high reliability in aerospace applications.
Media and Investors Contact:
Michael Sund
Maxwell Technologies
Phone: +1 (858) 503-3233
Email: msund@maxwell.com
Featured Product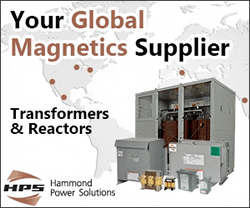 HPS is the largest manufacturer of dry-type transformers in North America. We engineer and manufacture a wide range of standard and custom transformers that are exported globally in electrical equipment and systems. We support solid industries such as oil and gas, mining, steel, waste and water treatment, and wind power generation. HPS leads the industry in these markets through its technical design strength, breadth of product, and manufacturing capabilities, making HPS a stronger company both fundamentally and financially.