Treeflights.com is a new company that plants trees for air travellers who are concerned about their emissions of CO2.When we fly we use up precious fossil reserves.The idea is that the tree will gradually re-store an equivalent quantity of solar energy to that consumed in the flight.
Cardiff, Wales 28/08/06

Treeflights.com, launched last month, is a new scheme that gives individuals and companies an easy way to offset the CO2 released when they fly. It's based on a really simple idea. One tree is planted per passenger flight and as it grows it gradually re-absorbs the CO2 produced in the flight and re-stores the solar energy consumed.
Treeflights is based in Mid-Wales (G.B.) where they have three forest planting sites, high up in the Cambrian Mountains. Airline passengers use the service fom all over the world and choose their own tree from 8 Broadleaved species, including Oak, Beech, Cherry and Willow. In time these forests, which anyone can visit, will become a haven for birds and other wildlife.
Treeflights Director, Ru Hartwell, says;
" My little boy is 2 years old. I don't want him to be living on the surface of Venus when he's my age."
With 8 billion individual flights last year, more CO2 in the atmosphere now than for 650,000 years and an annual de-forestation rate of 20 million acres, perhaps this project is overdue?
View the Treeflights Nursery here - http://thumbsnap.com/v/Cyy9K7pC.jpg
Visit the Treeflights Website here - http://www.treeflights.com/
Contact: 0441570 493 275
Featured Product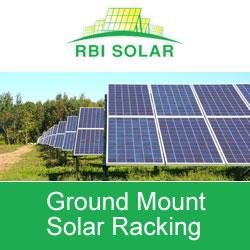 RBI ground mount solar systems are designed and engineered for each customer's site specific conditions to minimize the field installation labor and require no field welding, drilling, or other on-site fabrication. Our meticulous project planning and precise execution combine to provide you with solar racking solutions that are tailored to the unique conditions of your location. RBI provides a wide range of PV mounting systems in various sizes to offer freedom and flexibility to support every type of PV module. RBI Solar ground mount system is a perfect utility scale solar racking solution with two models classified by Intertek to UL subject 2703. ETL Classified systems include proven models GM-I and GM-T which have been used on many large commercial and utility scale solar racking projects across the country.