New opportunities for the European markets for heat recovery ventilator (HRV) and energy recovery ventilator (ERV) systems
London, U.K. — 4 September, 2006 — While tremendous growth opportunities exist in the European markets for heat recovery ventilator (HRV) and energy recovery ventilator (ERV) systems, participants will, nevertheless, need to design new strategies to boost penetration rates. In addition, they will need to overcome the constraint of low demand in a mature market as well as a potential reduction in profit margins due to intensifying competition.

Frost & Sullivan (http://www.environment.frost.com) finds that the European Markets for Heat and Energy Recovery Ventilator Systems earned revenues of $723.4 million in 2005 and estimates this to reach $845.7 million in 2012.
Most European countries have implemented legislation to reduce their levels of energy consumption. The monitoring of energy consumption in all new and existing buildings has supported efforts to meet stated targets. In this context, the installation of an HRV/ERV system can enable buildings to recover up to 80 per cent of the energy lost by transferring energy from stale, indoor air to incoming fresh, outdoor air.
"The EU Directive for reducing energy consumption in buildings provides promising opportunities for HRV/ERV systems", notes Frost & Sullivan Research Manager Gaia Nocchi. "End users can improve the energy efficiency of buildings by installing a heat/energy recovery system, which can recuperate the heat lost in exhausting indoor conditioned air."
However, a large, conservative end-user base in Europe has resulted in limited market penetration. End users remain largely uninformed about the benefits of using HRV/ERV systems to reduce energy consumption. Natural ventilation systems, such as opening windows or using mechanical exhaust fans where access to outdoor air is remote, continue to be used.
"Most end users are not aware of the features of HRV/ERV systems and consider installing such systems an unwanted expense," says Ms. Nocchi. "Additionally, some consider the use of a mechanical device for ventilation to be unhealthier than natural ventilation, although, in fact, it is the other way round".
Market participants will have to create awareness among potential end users across domestic and commercial sectors about the cost savings accrued by reduced energy consumption, as well as the health benefits achieved by using HRV/ERV systems. The participants should also bring the concept of rate of return for the investment from the savings in energy cost.
If you are interested in a virtual brochure, which provides manufacturers, end users and other industry participants with an overview of the latest analysis of the European Markets for Heat and Energy Recovery Ventilator Systems then send an e-mail to Chiara Carella- Corporate Communications, at chiara.carella@frost.com with the following information: your full name, company name, title, telephone number, e-mail address, city, state, and country. We will send you the information via email upon receipt of the above information.
European Markets for Heat and Energy Recovery Ventilator Systems is part of the Building Technologies Subscription, which also includes research in the following markets: European Building Management and Control Systems - Products and Services market. All research included in subscriptions provide detailed market opportunities and industry trends that have been evaluated following extensive interviews with market participants. Interviews with the press are available.
Frost & Sullivan, a global growth consulting company, has been partnering with clients to support the development of innovative strategies for more than 40 years. The company's industry expertise integrates growth consulting, growth partnership services, and corporate management training to identify and develop opportunities. Frost & Sullivan serves an extensive clientele that includes Global 1000 companies, emerging companies, and the investment community by providing comprehensive industry coverage that reflects a unique global perspective and combines ongoing analysis of markets, technologies, econometrics, and demographics. For more information, visit www.frost.com.
European Markets for Heat and Energy Recovery Ventilation Systems
B970-19
Contact:
Chiara Carella
Corporate Communications - Europe
P: +44 (0) 20 7343 8314
F: +44 (0) 20 7730 3343
E: chiara.carella@frost.com
Trisha Bradley
Corporate Communications - Americas
P: +1 210.247.3870
E: trisha.bradley@frost.com
Donna Jeremiah
Corporate Communications - Asia Pacific
P: +603 6304 5832
F: +603 6201 7402
E: djeremiah@frost.com
Samantha Unnikrishnan
Corporate Communications - India
P: +91 (0) 44 42044667
F: +91 (0) 44 24314264
E: sunnikrishnan@frost.com
Sharmin Jassal
Corporate Communications - Australia
P: +61 2 8247 8900
E: sjassal@frost.com
www.frost.com
List of keywords in this press release heat recovery ventilator systems, HRV systems, energy recovery ventilator systems, ERV systems, energy costs, heat recovery systems, energy recovery systems, energy consumption, natural ventilation systems
List of key industry participants: U.S. - RenewAire, Fedders, Carrier, Mitsubishi Electric, Fantech, McQuay; Miscellaneous - Villavent (Residential), Vent Axia, Lectros International Ltd, Mitshibishi Electric, Intervent Ventilation Systems Ltd, LG (ECO V), Xpelair, Johnson & Starley Ltd, JLS International, Nuaire Ltd, ADM Systems UK, Brook Design Hardware, Greenwood Air Management plc, Ubbink (UK) Ltd, Kair Ventilation Ltd, AllergyPlus Ltd, Utek srl, Rivacold, Thermokey, Klingenburg, Stiebel Eltron, Flakt Woods, Aldes Group, Vim, Trane, Airwell, Daikin, Carrier, Heat craft, Hamon Thermal, York, Spirec, Proflute, Nickel, Munter AB, Atmos Heating Systems, Soler and Palau, Anjos, Robatherm
Featured Product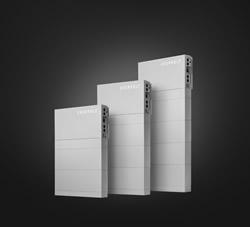 Extract maximum power production from every roof size and shape. HIT® AC Series combines the module efficiency of Panasonic solar panels with the intelligence of Enphase microinverters. A built-in IQ 7X microinverter with Individual MPPT (Module-level Power Point Tracker) tracking helps deliver an all-in-one module that offers design flexibility, reduced installation time, and a higher ROI. Field-replaceable microinverter with no DC wire management required yields lower cost of ownership.