New medical building features the latest in renewable energy systems from Selectpower Inc. Geothermal, solar systems will slash energy costs by $300 thousand a year while dramatically reducing greenhouse gas emissions at Brampton, Ont. site
GUELPH, Ont. (Sept 7, 2006) - City Core Developments Inc. has chosen Selectpower Inc. to provide state-of-the-art heating, cooling and solar power systems for its futuristic new Springdale Professional Building project in Brampton, Ont., Selectpower announced today.

The Springdale project, located next to Brampton's new William Osler Hospital, the largest hospital in Canada, is under construction through 2006 and opening in 2007. The 120,000-square-foot condominium professional-medical building is described by builder City Core Developments as one of the most-advanced commercial projects ever developed in Canada.
"We are quite proud of this project and we believe that it will be the first LEED Certified green building in the Brampton area," said developer Jack Pong of City Core Developments of Toronto. "Our philosophy is that if you can build a sustainable green building that's economically viable, then you should be doing so today."
The project is designed to meet the Canada Green Building Council's standards for a silver LEED Certified rating (Leadership in Energy and Environmental Design), which recognizes leading-edge buildings incorporating design, construction and operational practices that combine healthy, high-quality and high-performance advantages with low environmental impact.
The building's environmental impact and performance will be exceptional thanks to a design that incorporates advanced geothermal heating and cooling systems, plus solar power, from Selectpower Inc. of Guelph, Ont.
The 11 kilowatt solar system will use nine solar panels about 12 by 20 feet each and will combine photovoltaic power with batteries to provide emergency back-up in the case of power outages.
"We chose Selectpower because of their depth of experience in their team and consistent success in Ontario," Pong said. "The reduction of greenhouse gases and the energy savings will be very substantial for a building of this size. What we are achieving is equivalent to taking 99 cars off the road each year, as the building eliminates via geothermal and solar systems about 459 tonnes of greenhouse gas emissions annually, which is absolutely incredible."
On the cost-savings side, City Core's use of Selectpower geothermal and solar solutions is estimated to deliver cumulative energy savings of approximately $25 million over a 30-year contract. The building does not require the use of gas or oil at all, in addition to dramatically reducing electricity consumption that would be typical for a building its size. Not only will Springdale save money now, it will be well protected from rising energy costs for the life of the building.
"Selectpower has worked closely with City Core to provide affordable energy solutions that will conserve energy for a greener world while actually paying financial dividends in the form of dramatically reduced energy costs," said Suzanne Wiltshire, President of Selectpower.
Selectpower is providing not only the design, engineering and construction of the system, they will also provide an attractive financing package that requires no additional up front capital above what a traditional HVAC system would cost in addition to long term maintenance and equipment renewal as needed or at equipment life.
Geothermal technology is one of the fastest-growing applications of renewable energy in the world right now for heating and cooling, Wiltshire adds, and as more people seek out affordable and sustainable alternatives to increasingly costly oil and gas systems, the market is poised to soar.
"The word is spreading rapidly as more businesses and homeowners discover geothermal technology as a truly sustainable and affordable solution that literally pays for itself," Wiltshire said.
Geothermal technology, Pong added, is taking off as an alternative energy resource as developers continue to discover its compelling advantages.
The Springdale project also has nine solar panels about 12 by 20 feet each, said Pong, and will combine photovoltaic power with batteries to provide emergency back-up in the case of power outages.
"Once developers and buyers understand what geothermal energy is - and understand the 'Selectpower Solution' in particular - there is no question that more projects will take advantage of the real benefits available in using geothermal systems," Pong said. "Geothermal is considered a new technology because it is not widely used or understood. It is a technology that has been around for many years but is only now gaining new public awareness due to high energy costs."
More details on how businesses like City Core are using Selectpower Inc. services and products today to save energy and cut costs are available online at www.selectpower.ca. A high-resolution digital illustration of the City Core Springdale project is also available at the Selectpower Inc. Web site.
ABOUT SELECTPOWER INC.
Selectpower provides renewable energy solutions and services that are designed to help Ontario homeowners and businesses manage their energy consumption and reduce their energy bills while enjoying greater comfort and convenience. Selectpower's Energy-Smart Solutions include draft-proofing, high-efficiency heating and air conditioning, water heating and solar and geothermal systems. Selectpower offers affordable financing options for all of its products and services. Selectpower is an affiliate of Guelph Hydro Inc.
Featured Product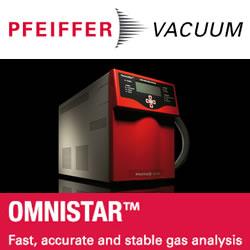 The Pfeiffer Vacuum OmniStar benchtop analysis system offers you a compact footprint, powerful software and Ethernet connectivity. It's the optimum solution for many real-time gas analysis applications. With the OmniStar, Pfeiffer Vacuum offers you a complete solution for gas analysis, in chemical processes, semiconductor industry, metallurgy, fermentation, catalysis, laser technology and environmental analysis. The turnkey OmniStar gas analysis system consists of heated, temperature-regulated gas inlet system, Quadrupole mass spectrometer, a dry diaphragm vacuum pump and HiPace turbopump. Unlike competing methods such as FTIR, OmniStar is suitable for qualitative and quantitative analysis of most gases.