The New and Renewable Energy Centre (NaREC) in Blyth, Northumberland has been awarded a significant contract to power the next generation of Emergency Roadside Telephones (ERT) for the Highways Agency.
The new ERT roadside telephones will be powered by a state of the art compact solar cell pioneered and developed by the Photovoltaic Centre at NaREC.

The Highways Agency has begun a £20 million programme to replace over 6500 roadside phones with the new technology across the motorway and trunk road network in England.
NaREC's Photovoltaic team, which helped in the development of world record advances in silicon based solar cell efficiency, were able to win the contract with the Staffordshire based telephone design company GAI-Tronics by producing a 24 cm x 9 cm cell twenty five percent more efficient than rival designs. The high level efficiency and reliability of the solar cells will ensure a long-term standalone power source for the roadside telephones.
The cells will be designed to sit in a polycarbonate dome on top of the structure and will generate 1.8 Watts of power directly into a rechargeable battery. The use of solar power will enable the telephones to be self powered.
The contract is the latest in a series for the PV Centre which was set up with £ 2.2 million of funding from ONE NorthEast. The Centre opened last year and produced its first solar cell in November 2005.
Initially worth £50,000 but potentially rising to £200,000 over two years, the contract will see another three jobs created at the fast growing solar technology centre. The eight strong team are engaged in research and development work and, with the arrival of this contract, are expanding into a medium scale manufacturing facility.
The Centre's Chief Technology Officer Dr Tim Bruton said the contract was a crucial step towards the continuing expansion of the technology centre.
"This is a vote of confidence in our own expertise as well as the technology we've developed here in Blyth in just six months of commercial operation. As we continue to develop a reputation in this niche market I believe we can look forward to growing into an even larger volume production facility in the coming months and years."
Featured Product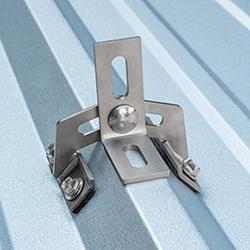 QuickBOLT Low Profile QuickBOLT with Microflashing™ is the industry's affordable, UL Certified Asphalt Shingle mounting system. The Microflashing™ is compressed by the collar on the bolt to create a water-tight seal. With an installation time of less than one minute, the Low Profile QuickBOLT allows installers to complete more jobs.