Across Europe, wind turbine production is racing ahead as the wind energy market rapidly reaches commercial competitiveness. As the gap narrows between newcomer and market leader, how can manufacturers ensure they are the top suppliers that meet the growing demand?
With the first twelve months of continuous independent blade testing in the UK nearing completion, The New and Renewable Energy Centre is discovering how blade technology is the manufacturers' key to competitive advantage.

Dr. Richard Court, Wind Technology and Materials Specialist at NaREC, "Manufacturers are ensuring their success in the current market and safeguarding their future dominance by being the first to develop advances in blade materials, durability and resilience.
The quality of turbine blades will be one of the major research and development issue for at least the next ten years. Paramount to these long term investments is confidentiality and the ability to anticipate how the market will evolve."
Currently, 2-3 MW turbines can be seen in abundance, and it is evident that they are working to specification, for now. There are only a few 5 MW prototype turbines available from a few wind turbine manufacturers, and it is difficult to predict how these will perform - either in the short term or the long term. It is also difficult to anticipate what longevity turbines will need in the future.
A key issue in Europe and in the UK in particular, is the limited number of sites available for onshore wind technology deployment. As a result, manufacturers and investors are now looking at other ways to capitalise on existing projects. Developers are looking at increasing output and making the most of established sites, and so durability and efficiency are crucial factors.
Andrew Mill, Chief Executive at NaREC, "We are finding ourselves at the centre of the race to the finish-line amongst the wind turbine manufacturers whose boundaries are moving all the time. Flexibility, confidentiality and the ability to share the pressures of the manufacturer's deadline are what our customers are looking for.
Larger blades are being developed to meet with on and offshore power demands. Our quayside facility removes the logistical nightmares associated with moving blades over 50m in length. NaREC's blade test facility has been set on a steep learning curve, but it has already developed new testing methods which go further than current practices. Facilities like ours need to be able to adapt our capabilities as fast as the manufacturers themselves need to. "
Featured Product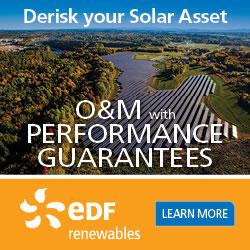 EDF Renewables offers the same innovative solutions that maximize the performance of our own 5.2 GW of installed projects. Because we're not an equipment manufacturer, our recommendations are transparent and data-driven. We cover the entire project lifecycle: from pre-commissioning support, through warranty and post warranty operation, to late stage and decommissioning.