Enova Systems Evaluates Valence's U-Charge® Power Systems for Hybrid School Buses That Can Attain up to 100 Percent Increase in Fuel Efficiency
Enova Systems Evaluates Valence's U-Charge® Power Systems for Hybrid School Buses That Can Attain up to 100 Percent Increase in Fuel Efficiency

AUSTIN, Texas - Oct. 23, 2006 - Students may soon be traveling to school in a fuel-efficient bus using Valence Technology, Inc. (NASDAQ: VLNC) batteries. Enova Systems (AMEX: ENA, AIM: ENV and ENVS), a leading supplier of efficient, environmentally friendly Hybrid Electric powered systems, has ordered U-Charge® XP Power Systems based on Saphion® phosphate technology from Valence. Enova Systems, in collaboration with IC Corporation, the nation's largest school bus manufacturer, recently won a bid with Advanced Energy, a Raleigh, N.C.-based nonprofit corporation, to provide up to 21 hybrid school buses to 11 states. Enova is providing the hybrid drive systems for the nationwide hybrid school bus initiative and is evaluating Valence batteries to power the new line of buses.
The project provides operational benefits to school districts, while also providing the reduced emissions desired by the U.S. Environmental Protection Agency and a valuable return on investment to school boards. The hybrid school bus is expected to attain a 100 percent increase in fuel efficiency, which becomes even more essential with rising fuel costs affecting the school districts.
"We selected Valence's Saphion® phosphate batteries for their inherent safety, which addresses the limitations of traditional lithium-ion chemistries particularly in large batteries like those needed for hybrid vehicles," said John Dexter, Director of Operations and Planning, Enova Systems. "In addition to safety, Saphion technology delivers the power and energy that these buses demand. We are excited to offer school districts clean-running, safe and cost-effective transportation."
The hybrid school bus project features Enova's post transmission 80-kilwatt hybrid drive system coupled with Valence's U-Charge Power System. The system is based on a parallel architecture, allowing the system to utilize both diesel and electric power in a highly efficient manner.
The U-Charge Power System uses Valence's patented Saphion® phosphate lithium-ion technology which provides long run-time, exceptional cycle life, and safety. Saphion technology combines the power of lithium-ion with the safety of phosphates which combination is powerful yet chemically and thermally stable.
The hybrid drive system recovers kinetic energy during regenerative braking; charging the batteries while the bus is slowing down. This ability to charge the batteries provides additional power for acceleration, making school busses ideal candidates for hybrid technology because of the frequent stops and starts they perform along their daily routes.
"We're proud to have the U-Charge XP Power System selected to support the nationwide hybrid school bus initiative," said Dean Bogues, President of Worldwide Sales & Marketing, Valence Technology, Inc. "Valence's Saphion batteries offer an alternative for transportation and fleet customers looking to compete against the rising fuel costs and reduced emissions standards to deliver the best combination of performance, safety, cost and reliability."
The U-Charge XP Power System U24 model is a 12.8-volt nominal battery designed in the BCI Group 24 size and operates at standard 12-volt lead-acid voltage ranges. This battery is capable of delivering 1500 watts continuous through a full discharge cycle and can handle peak loads up to 3800 watts. The U-Charge XP Power System can charge in less than two hours and power is stored at a high charge efficiency. Each U24 model includes integrated battery monitoring electronics and is used in conjunction with a U-BMS or application specific battery management system. As many as 30 of the U-Charge XP Power System batteries can be connected in a series for high voltage applications such as pure electric vehicles, hybrid electric vehicles, marine applications, and power back-up applications.
About Enova Systems, Inc.
Enova Systems is a leading supplier of efficient, environmentally friendly digital power components and systems products. The company's core competencies are focused on the development and commercialization of power management and conversion systems for mobile and stationary applications. Enova applies unique 'enabling technologies' in the areas of alternative energy propulsion systems for medium and heavy-duty vehicles as well as power conditioning and management systems for distributed generation systems. The company develops, designs and produces drive systems and related components for electric, hybrid-electric, and fuel cell powered vehicles. For further information, contact Enova Systems directly, or visit its Web site at www.enovasystems.com.
About Valence Technology, Inc.
Valence Technology developed and markets Saphion® technology, the industry's first commercially available, safe, large-format Lithium-ion phosphate rechargeable battery technology. Valence Technology holds an extensive, worldwide portfolio of issued and pending patents relating to its Saphion technology and lithium-ion rechargeable batteries. The company has facilities in Austin, Texas; Las Vegas, Nevada; Mallusk, Northern Ireland and Suzhou and Shanghai, China. Valence is traded on the Nasdaq SmallCap Market under the symbol VLNC and can be found on the internet at www.valence.com.
Featured Product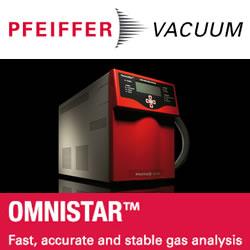 The Pfeiffer Vacuum OmniStar benchtop analysis system offers you a compact footprint, powerful software and Ethernet connectivity. It's the optimum solution for many real-time gas analysis applications. With the OmniStar, Pfeiffer Vacuum offers you a complete solution for gas analysis, in chemical processes, semiconductor industry, metallurgy, fermentation, catalysis, laser technology and environmental analysis. The turnkey OmniStar gas analysis system consists of heated, temperature-regulated gas inlet system, Quadrupole mass spectrometer, a dry diaphragm vacuum pump and HiPace turbopump. Unlike competing methods such as FTIR, OmniStar is suitable for qualitative and quantitative analysis of most gases.